By Tamlyn Canham
While other people's kids are arguing over which celebrity is carrying a fake Gucci bag, Mihlali Ndamase is showing off her genuine Louis Vuitton bag.
The award-winning influencer showed off the designer bag during an episode of Lasizwe's YouTube series, 'Drink or Tell the Truth'.
Mihlali revealed that she forked out a whopping R40,000 on the tiny (and we mean tiny) Cannes Reverse Monogram bag.
She told Lasizwe that it was worth the money. The 24-year-old bought the bag in 2020.
"This is such a hallelujah moment for me. I am a huge fan of luxury; I'm a huge fan of designer. Anybody who's been following knows that I am a designer whore," she said while unboxing the bag on her channel.
ALSO READ: R25k shoes, Louis Vuitton everything –  Inside Somizi's luxury closet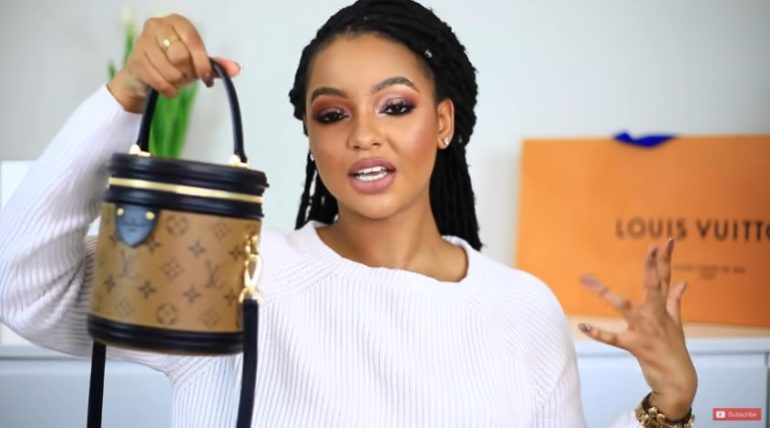 Mihlali spills the tea
Mihlali's R40,000 designer bag was not the only thing that left viewers' jaws on the floor. Lasizwe also asked her about rumours she stole another woman's man.
"There's this hun on Twitter. I won't mention her name, her name starts with an "M". She went out and said you stole her man, and you're a homewrecker," Lasziwe said.
He asked Mihlali if she really did have something going on with the woman's man. While Lasizwe was careful not to mention any names, the "hun" in question appears to be Meeshka Joseph.
She accused Mihlali of stealing her man in a series of tweets shared in May. The posts have since been deleted.
Mihlali is finally setting the record straight – kind of.
She told Lasizwe: "Last time I checked, men are human beings, who are grown, who can make their own decisions. He is not a sack of potatoes, I have never stolen a man. I don't know how to steal things. And that is my answer."
Watch the full episode of 'Drink or Tell the Truth' with Mihlali below.
The Arts Report: Mihlali Ndamase talks Forbes, make-up and conquering the naysayers
Main image credit: YouTube/Lasizwe Dambuza