By Kaya 959 News
The South African Depression and Anxiety Group (SADAG) will this week speak to young doctors who are fighting in the frontlines of the COVID-19 pandemic.
The online documentary, 'A Quiet Implosion', will show how COVID-19 has brought into focus the importance of frontline healthcare workers around the world.
Even before the onset of COVID-19, junior doctors in SA had started sharing the negative impact of working in a system that pushes them to breaking point.
The documentary will show how over the last 14 months, the strain has been amplified and has left many healthcare professionals burnt out and unable to cope.
READ: Indian couple get married on flight to evade COVID-19 restrictions
Doctors unable to cope
Dr Anesu Mbizvo, 28 and from Gauteng, said the level of doctors unable to cope is more than any doctor knows.
"When you are operating in this tunnel-like vision mindset, many things fall by the wayside," said 28-year-old Gauteng-based Dr Brendan Savary.
The reasons for this sit both at the systemic level and include the long working hours, under-resourced environments and more recently the lack of hospital safety at certain institutions, but also at the micro-level in how healthcare workers are often ill-equipped to deal with the trauma and lack of support they face in their workplaces.
READ: SA billionaire bails out restaurants hit by COVID-19
Through a series of three interviews with junior doctors in South Africa all on very different paths, 'A Quiet Implosion' seeks to explore what are some of the root causes of so many doctors not coping, what are some of the ways this problem can be addressed and how the next generation of doctors can be a part of creating change in the healthcare system.
Dr Nic Thompson, 31, said their challenges were not unaddressable.
"These are not lofty goals… we could make it better for everyone," the 31-year-old Dr from Cape Town said.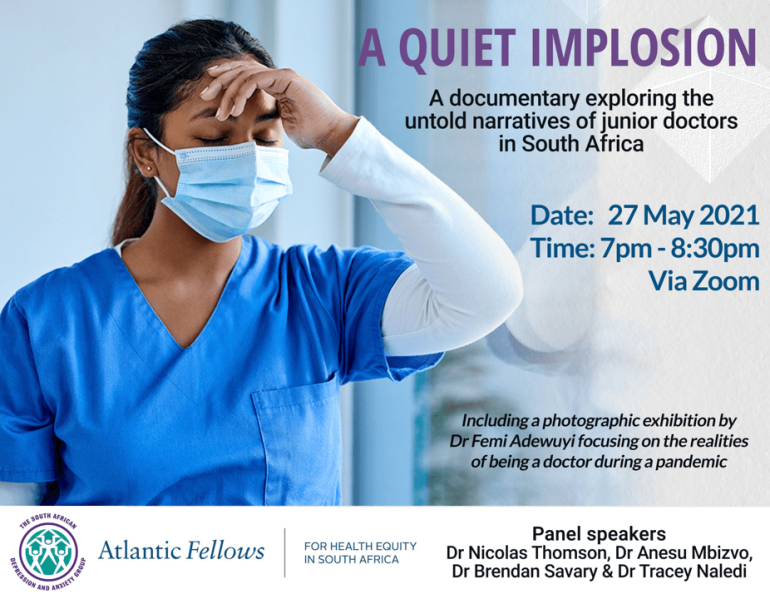 Key issues unpacked
The docu-series was produced by Dr Cyan Brown, a medical doctor with a keen passion for public health and helping to build more innovative, sustainable and inclusive healthcare systems and communities.
The documentary is supported by Atlantic Fellows based at Tekano, a fellowship programme which the producer, Dr Brown, is a graduate of. Tekano believes in addressing the inequities in the SA health system in an effort to create a healthier, more equal nation with improved access to healthcare and services for all populations in the country.
This documentary was funded as part of Dr Brown's social change initiative during the Fellowship journey.
"Our generation of doctors has to start advocating for building a more sustainable healthcare system that looks after all healthcare workers," Brown said.
Join the LIVE online launch of the documentary which explores the lived experiences of three young doctors in South Africa as they share vulnerably, powerfully and in the hope of catalysing change.
The launch will share snippets of the documentary followed by a panel of speakers that will unpack the key issues that young doctors in South Africa face on a daily basis, but more importantly, talk about big and small ways change can be created to look after healthcare workers and build a more sustainable healthcare system.
For more information, visit www.sadag.org