By Tamlyn Canham
Celebrities continue to use their platforms to raise awareness about lymphedema.
American media personality, Wendy Williams, and Bahumi Madisakwane both suffer from the incurable chronic condition.
Lymphedema is caused by a buildup of fluid in the body' soft/fatty tissue. The buildup causes swelling – typically in the arms or legs.
Wendy first revealed she had lymphedema in 2019 after the paparazzi shared pictures that showed her with swollen ankles.
"It's not going to kill me, but I do have a machine—and how dare you talk about the swelling of it all," she said at the time.
Wendy's condition recently came under the spotlight again. She debuted her very own wax figure at Madame Tussauds New York last week.
Her ankles were clearly visible in pictures shared from the event.
"What's wrong with Wendy's ankles?" one person asked on Instagram.
Some even made fun of the host's ankles.
This wax figure of Wendy Williams is 85% identical to her. They just forgot to sculpt her Elephantitis Azz Ankles pic.twitter.com/lQcOscGMIT

— 2RawTooReal 💛🐝 (@2RawTooReal) May 13, 2021
Raising Awareness
Wendy is not ashamed of her condition.  She took to her Wendy Williams show page to share a close-up picture of her swollen ankles.
"My Dr Laure is the French lady who's helping me live with lymphedema. She scrubs & understands my disease is not curable only manageable. Oh yes, I'm wearing a sequin dress why not?!" she captioned the image.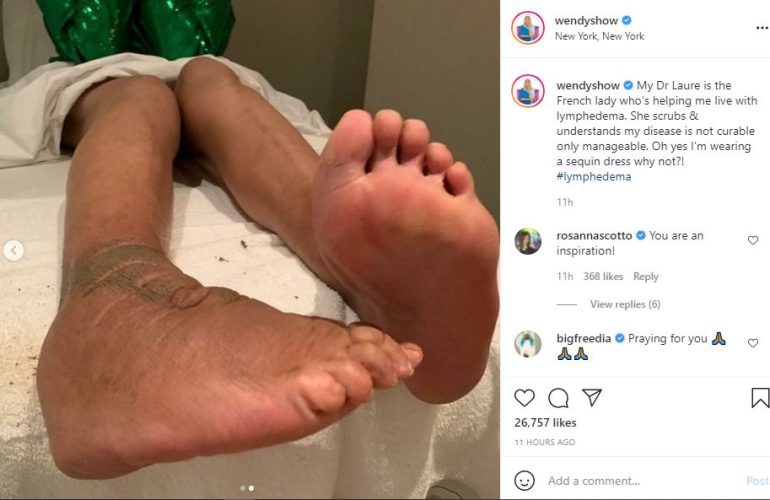 Wendy recently received the 'Awareness Award' from the Lymphatic Education and Research Network.
She also put together a team for the 2021 Run/Walk to Fight Lymphatic Diseases.
View this post on Instagram
Bahumi embraces her condition
South Africans learned about Bahumi's lymphedema condition in 2017.
Her condition was discussed on an episode of her father's hit reality show, 'Living the Dream with Somizi'.
Somizi had bought her a pair of Louis Vuitton pumps, noting that her feet were two different sizes.
Bahumi bravely shared a picture of her swollen legs for the first time in 2020.
"Being herself was her truest form of worship," the actress captioned the image.
View this post on Instagram