Riky Rick has lashed out at the South African government who he believes its "leaders" have let small businesses down.
It's been a heartbreaking week for business owners in Gauteng and KZN, many shops have been looted and livelihoods have been destroyed.
Also Read: Prince Kaybee on the ground cleaning up after looters
His store Legend Barber was one of the shops that were ransacked in the past week during a wave of looting that erupted in the country.
He took to his Facebook page to express his sadness and anger with the government.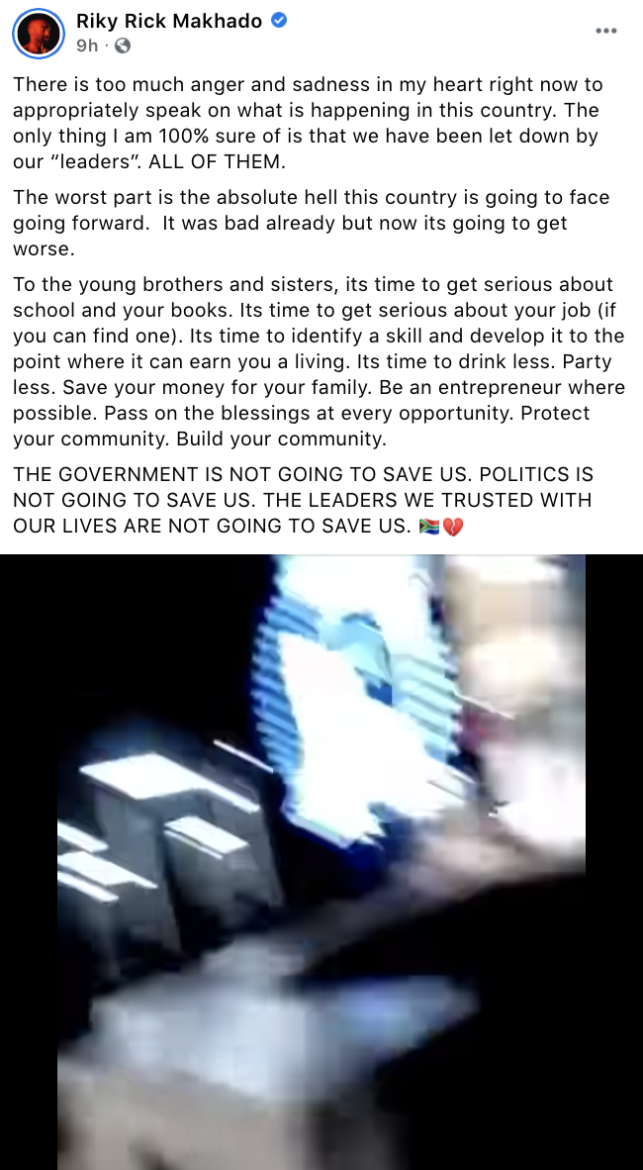 Also Read: Youth endala, 35 to 49 year-olds, it's time to register for vaccination
WATCH THE VIDEO HERE:
Also Read: WATCH: Sihle Zikalala has been accused of supporting vigilantism and mob justice
He also urged the youth to start taking themselves seriously, and fight for their survival by persevering.
"To the young brothers and sisters, its time to get serious about school and your books. Its time to get serious about your job (if you can find one). Its time to identify a skill and develop it to the point where it can earn you a living. Its time to drink less. Party less. Save your money for your family. Be an entrepreneur where possible. Pass on the blessings at every opportunity. Protect your community. Build your community."
In 2019, Riky Rick expanded his businesses by starting a unisex salon under the Legends Barber franchise when he opened his own place in Waterfall Midrand.
View this post on Instagram