By: Natasha Archary 
In his national address on Sunday evening, President Ramaphosa moved SA to adjusted level 2 as Covid-19 infections drop. The ease in lockdown regulations will be effective Monday 13 September, and comes after a marked decline in infections over the last 2-weeks.
While the infection rate during the third wave peaked in Gauteng, the province has noted a significant decline, as did most of the other provinces, with the exception of the Northern Cape and the Free State.
Adjusted level 2:
Under adjusted level 2 the hours of curfew will now be between 23h00 and end at 04h00. Non-essential establishments such as restaurants, bars and fitness centres will need to close by 22h00. This is in order to ensure employees and patrons reach home before the curfew.
All gatherings will be limited to a maximum of 250 people indoors and 500 people outdoors. Where the venue is too small to accommodate these numbers with appropriate social distancing, no more than 50% of the capacity of the venue may be used.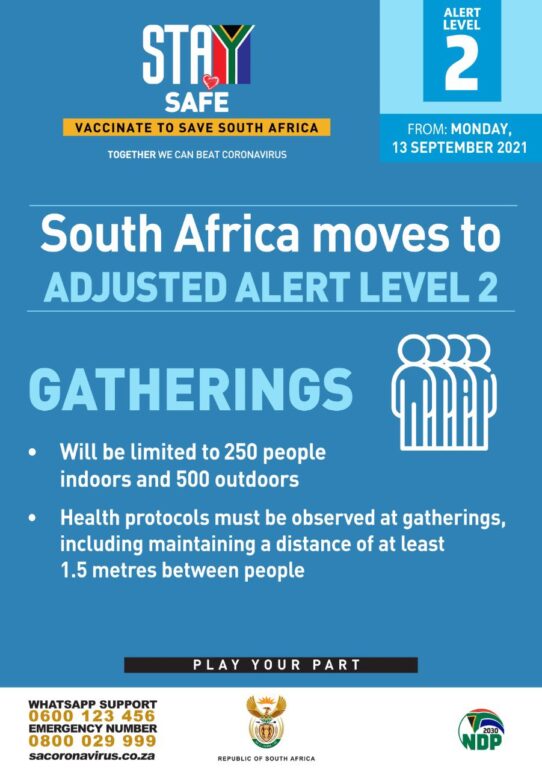 The sale of alcohol

from retail outlets for off-site consumption will be permitted from Monday to Friday between 10h00 and 18h00. Alcohol sales for on-site consumption will be permitted as per licence conditions up to 22h00.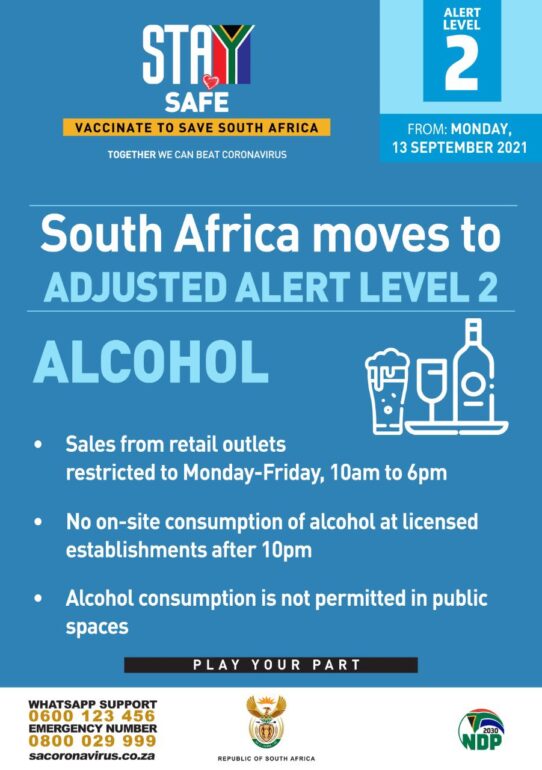 Several important measures remain in place and it is mandatory for every person to wear a face mask that always covers their nose and mouth when in public spaces.
It is a criminal offence not to do so, and the managers of shops and restaurants, as well as drivers of taxis and buses, have a responsibility to ensure that their customers wear masks and that appropriate social distancing measures are in place.
The president said the department of health will be investigating options for introducing 'vaccine passports' which can be used as evidence of vaccination for various purposes and events.
No decisions have been taken, the president said, but one of the mechanisms the country is considering is using an electronic system "through cellphones, or other forms of demonstration".
These measures will be reviewed in two weeks time depending on the state of the pandemic.

We will also be providing further information on an approach to 'vaccine passports', which can be used as evidence of vaccination for various purposes and events.

— Cyril Ramaphosa 🇿🇦 #StaySafe (@CyrilRamaphosa) September 12, 2021
Since applications for the special social relief grant was re-opened in August, nearly 13 million people applied. Of these, 8.3 million applications have been approved, and payments have started to these recipients.
"Just over 3.7 million applications were declined, mainly because applicants have other identified sources of income or are registered for assistance like UIF and NSFAS," Ramaphosa said.