By Tamlyn Canham
Lip fillers have become the norm in the entertainment industry, with stars like Kim Kardashian, Kylie Jenner, and Mihlali Ndamase leading the way.
But there is a dark side to lip fillers, and nobody knows that more than Mihlali. The South African influencer has opened up about her botched lip fillers.
The 24-year-old says she didn't get lip fillers because of any insecurities. She says she just wanted a fuller-looking upper lip.
"I always overline my lips when I do my makeup, every single time," she revealed in a YouTube video. Mihlali says she paid R5,500 to get her lips done.
"Lip fillers are the kind of thing where you can literally go in for your consultation and get them done at the same time. It's not that much of an invasive procedure. Yes, there is a lot of swelling afterward, but the downtime isn't crazy – or so I thought."
ALSO READ: Mihlali Ndamase reveals she spent R40k on a Louis Vuitton bag
View this post on Instagram
Mihlali Ndamase's "botched" lips
Mihlali says after getting her lip fillers done, she realised that her lips were too full. But she was assured the swelling would go down after a few days.
"I was like, 'oh my God'," these are huge," she says. The award-wining influencer says the lip fillers changed her entire face and she did not feel comfortable with them.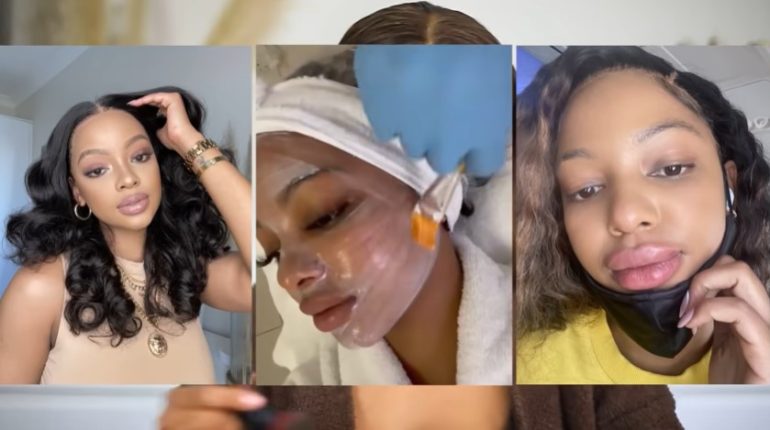 Mihlali says she decided to have her lip fillers dissolved. She says the procedure was painful because of the solution used to break down the filler.
"Getting the actual filler was not too bad because what she did do is she numbed my entire lip as if I am at the dentist… The dissolving, I was crying. My eyes started watering. I was in so much pain. The dissolving burns… I was lying there like, 'God, why did I do this?'," she says.
Watch Mihlali's full storytime below.
ALSO READ: Mihlali Ndamase becomes a CEO