By: Natasha Archary 
The headwrap that was once imposed on black women as a mark of slavery, is now being embraced by women of Africa. No longer is it reserved for special occasions and is instead worn today as a statement piece but it holds a significant meaning of spirituality, wealth, prosperity, and class in the African community.
Whatever you choose to call it, tuku in Sesotho, dhuku n Shona, duku in Chichewam or iduku in isiZulu, the doek or headwrap serves multiple purposes today. From protecting a woman's natural hair to ceremonial attire, what was once used to differentiate social status is now symbolic of culture and tradition.
To Sizwe's point, traditionally headwraps and/or doeks were worn during traditional ceremonies and weddings. One could also tell whether a woman was married, widowed, still young or older depending on the type of cloth, print and how high the wrap was draped on or around the head.
South Africans looked on in adoration when Zozibini Tunzi gracefully bowed out of the Miss Universe adorned in a matching headwrap. The beauty queen's message was one of pride and her stance echoes that of many women today, to remove the negative stigma around head wraps.
This Wednesday, Kaya Drive producer Masego Tlhakanye rocked her headwrap at the office and her sophisticated elegance inspired Sizwe Dhlomo to talk about women who don't wait for an occasion to show off their beautiful headwraps.
There we go, ladies is it just a headwrap or does it mean something more…? #Kayadrive pic.twitter.com/uvVWDfLfcV

— On the street. On the air. (@KayaOnAir) September 8, 2021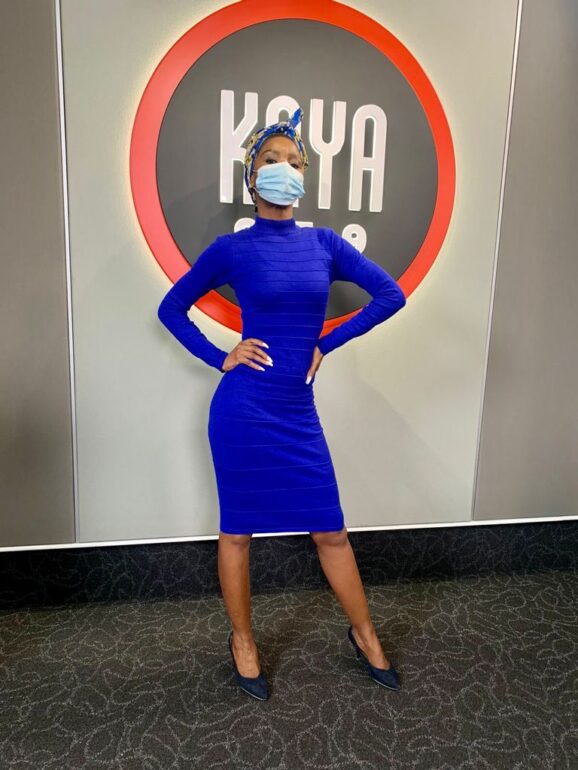 Despite wearing a mask, Kaya Drive listeners could not deny that Masego looked stunning, with many pointing out that her look is not only versatile but that she commands respect with her headwrap.
Kodwa @SizweDhlomo awusiboni eSoweto kushap
We still respect our culture thina abanye sakhuliswa ogogo so induku beykhala mawngezwa
Iyabonga iNdlondlo enophaphekhana
Simba mgodi singawlali
Inyokana ehlazana
Nkomo eyadl ublongwe yalibala
Ndlondlo bashise 🐍

— XOLANI MSIBI_MNDEBELE (@XolanMsibi) September 8, 2021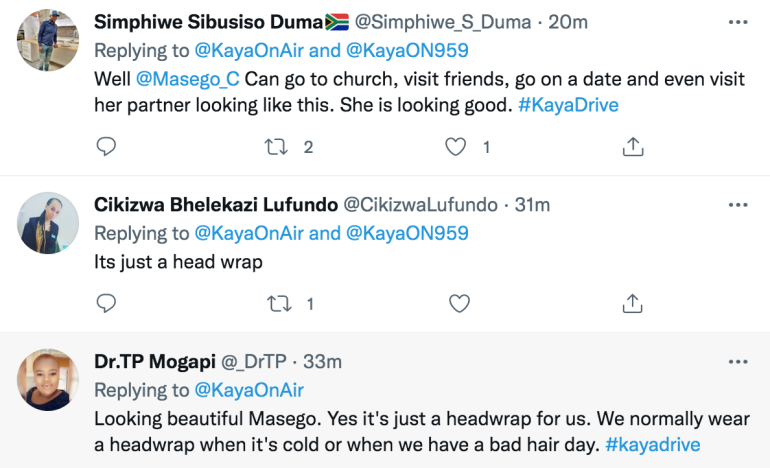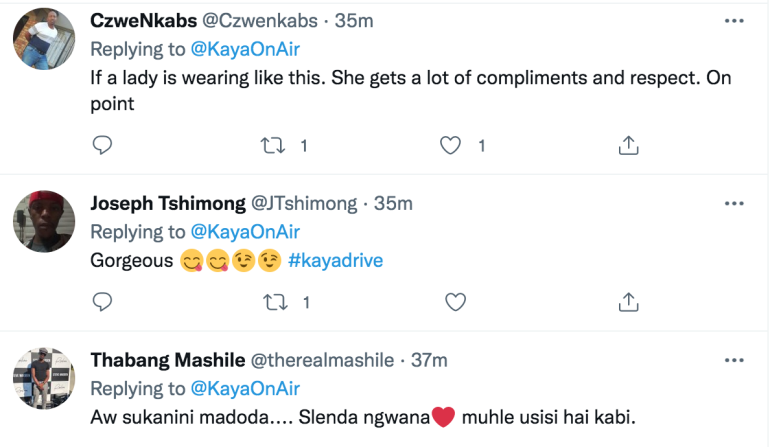 Listen to Kaya Drive listeners sharing what a headwrap means to them:
Also read: Wrapped with pride and dignity