By: Natasha Archary 
Today was the day Kaya Drive listeners chose Afrobeats for the win! The genre has had a bad run on the show for the Friday mixes for weeks and it was about time the style dominated the poll.
The Kaya Drive team have been voting for Afrobeats for the past 5 weeks on the show in vain. Sizwe Dhlomo has been on a winning streak with the votes swaying in his favour week in and week out.
Afrobeats involves a combination of West African musical styles such as fuji music and highlife with American jazz and later soul and funk influences, with a focus on chanted vocals, complex intersecting rhythms, and percussion.
Not to be confused with Afrobeat which is a blend of jazz and funk popularised by Nigerian musician Fela Kuti in the 1970s, Afrobeats is predominantly music from Ghana and Nigeria.
There's a fusion of rap and R'n'B with syncopated dancehall rhythms and local genres such as highlife and jùjú which gives the genre added layers.
The winning mix this Friday on Kaya Drive by DJ JAB A JAW was all levels of flames, a good way to bring in the weekend.
The votes are in, Afrobeats for the win:
It's a Friday! Choose the #KayaDrive mix you want to hear.

— Kaya 959 (@KayaON959) September 10, 2021
Also read: Kaya Drive: The headwrap is more than a beauty statement
Kaya Drive listeners were pleased with the results: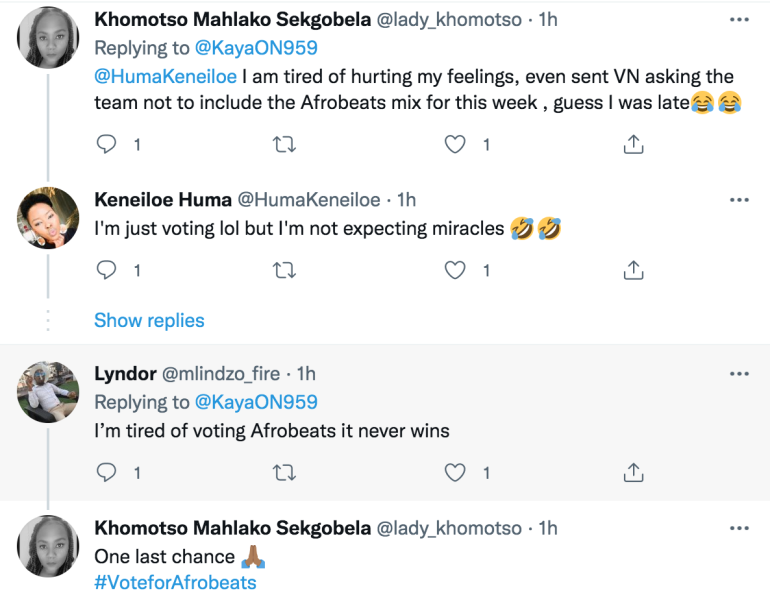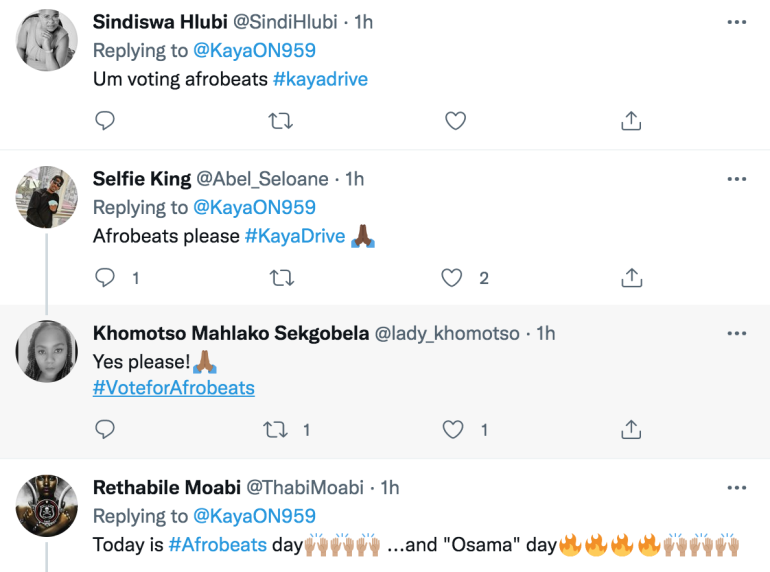 The genre blew up worldwide and Drake's 2016 hit One Dance carried Afrobeats elements from Nigerian heavyweight Wizkid. At the time the track streamed over a billion times on Spotify, solidifying the genre's popularity with global audiences.
Since then a number of international artists have experimented with the style including Chris Brown.
Don't miss the Afrobeats Dancehall & Ragga Top 10 on The Hive with Bonolo Bee Sting Molosiwa on Saturdays from 18h00 to 21h00.