A cat has been accused of stealing money in the Kingdom of Swaziland.
According to reports from Ezivuthayo Emaputaland, witches in Swatini have sent a black cat to steal in Parliament.
These are reportedly witches who do not want the country to be democratic.
Also Read: Dr Malinga rubbishes death rumours: "I'm Alive"
The cat was reportedly heard saying: "Yebo mnawa yenine majaha idemokhrasi yani le nifunako hhe? Niyadzakwa kutabusa Mswati la. Kute democracy eSwatini kute" which means "Yes, brother, what kind of democracy do you want? You are drunk to rule Mswati here. There is no democracy in Swaziland," the cat said.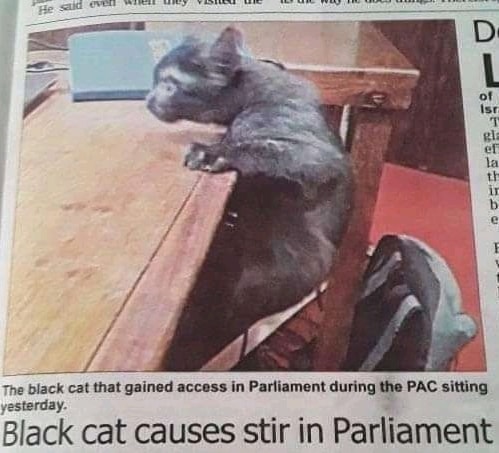 The story is very common in African countries, where animals and third forces are suspect in fraudulent and corrupt activities involving money.
Also Read: Usain bolt shares snaps of his cute twin boys Saint Leo and Thunder Bolt
Tik Tok user @juwonto explains how in Nigeria, other animals are the cause of these serious crimes.
According to the reports from Ezivuthayo Emaputaland, eSwatini has 80 000 witches.