By Tamlyn Canham
Zandie Khumalo and her husband, Mhlo Gumede, are expecting a baby. The singer shared the exciting news on Instagram.
"A journey that is exciting and very scary at the same time but worth it, I wanna thank God for lesibusiso esisendleleni…….I'm 8 months in today and I can't believe it's almost time. We can't wait to meet u Zenala ka mama," she wrote.
The post featured a picture of her baby bump. She was dressed in blue –  hinting that she is expecting a baby boy.
Zandie's followers flooded the comments section with heart emojis and messages of congratulations.
READ: Congrats! Da L.E.S and Aurea expecting baby number two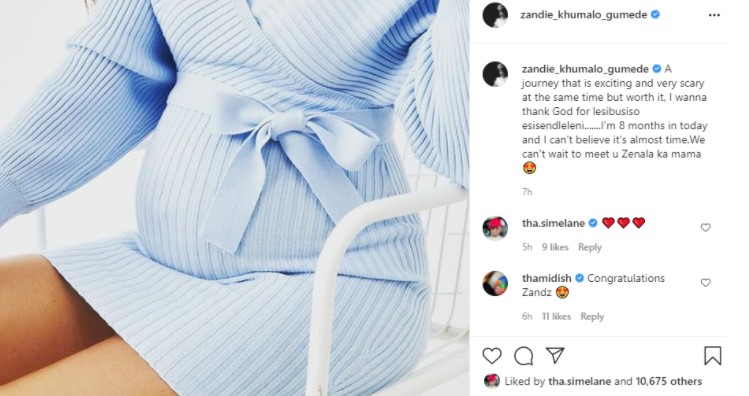 Zandie deletes her baby post
Shortly after sharing the post, Zandie decided to delete it. This led to many questioning if she was indeed pregnant.
Some went as far as accusing the singer of staging a PR stunt.
Zandie is gearing up for the release of her EP, which is called 'Zenala'. The offering is dropping on Friday.
It wouldn't be the first time a celebrity has staged a dramatic publicity stunt to create hype for a new project.
It didn't help that Zandie's follow-up post was all about her new EP.
"1 lala 1 vuka then Zenala will be out on all digital platforms and we taking all the way to the top with this one," she posted on Thursday.
READ: Kelly Khumalo tells 'government oldies' to step down 
But it turns out that Zandie is pregnant. She named her EP after her unborn child. She has dropped hints about her pregnancy in previous posts.
She thanked her husband for "the recent change" he helped her create while honouring him in a sweet post.
"You changed my life, invested in my career when I didn't even believe in myself, then u changed my surname from Khumalo to Gumede at the same time changing my tittle from Miss to Mrs, but the recent change u made beats all of them.
"I love u so much Phakathwayo and thank u for trusting me with your life nomuzi Kababa wakho.  ZENALA loading," she wrote.
Main image credit: Instagram/@zandie_khumalo_gumede