Babes Wodumo is a month into motherhood and yet insults single mothers in a video that is doing the rounds on social media. The new mom tells followers she cannot be called a 'baby mamma' and she shouldn't be compared to those moms whose baby daddies left.
Bongekile Simelane (Babes Wodumo) and her husband Mandla Maphumulo (Mampintsha) welcomed their baby boy, nicknamed Sponge Wodumo on 17 June. 
Also read: Congratulations! Mampitsha and Babes Wodumo welcome baby boy
Babes has had her fair share of negative publicity and her relationship with Mampintsha has not been all sunshine and roses with abuse allegations surfacing in 2019.
She insults single mothers in a live on her social media account back then revealing a physical altercation between herself and Mampintsha.
If Babes doesn't press charges, does anything happen to #Mampintsha considering there's video evidence? Law Twitter, what can happen in a case like this?

— Sibu Mabena (@sibumabena) March 4, 2019
Her latest live sees her dancing around, throwing shade on single mothers saying, "She got married before she had a baby, unlike baby mamma's out there!"
Babes Wodumo is saying she got married then had a baby so y'all shouldn't compare her to y'all baby daddies who left y'all. pic.twitter.com/xWkjRhItza

— Musa Khawula (@khawula_musa) July 21, 2021
Her comments didn't sit well with many who felt her unnecessary "flex" that she's living her best life as a married woman and now mother was distasteful.
Many responded to her video with equal shade and clapped back at Babes: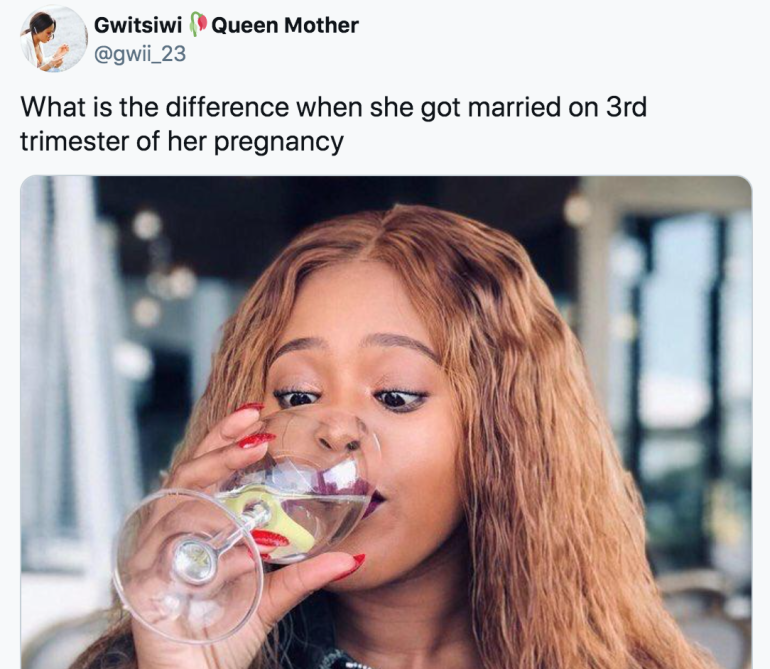 She is going through a lot shem🙆🏿‍♂️🙆🏿‍♂️🙆🏿‍♂️🙆🏿‍♂️🥺🥺🥺🥺some times attention seeking can be very destructive… And other things pic.twitter.com/iuCVo8Mn6w

— Slovo 🇸🇿🇸🇿🇸🇿 (@Zwanedefault) July 21, 2021