By Tamlyn Canham
Tshepi Vundla has publicly apologised for old social media posts she made about "fat women". The influencer came under fire this week after a clip from the 'On The Table' podcast went viral.
Tshepi was slammed for criticising women who expect men to pay for the nice things they crave.
"You know what I can't stand about girls on social media? Sbwl baecation, sbwl iPhone12. One, where are your parents? Two, can't you buy it for yourself but you're expecting men to do these things for you," she said.
ALSO READ: Tshepi Vundla doesn't understand people's 'obsession' with her marital status
Sembi ke😬 pic.twitter.com/a5uN56XfvU

— Zahra (@Nanazille) September 12, 2021
Stars such as Mihlali Ndamase, Ntsiki Mazwai, and Lamiez Holworthy called Tshepi out on social media.
Mihlali pointed out that not all women who "SBWL" (crave) nice things expect men to support them.
Some social media users dug up old social media posts of Tshepi making fun of women. Some of the posts fat-shamed plus-size women.
"I don't like fat people," a 2013 tweet she shared read.
She's always been problematic.honestly you cannot address such a sensitive issue like this. No one asks for odour. Phof we are the problem, we allow people like #Tshepi to have a plate-form and trigger us with their vile nature. She needs to learn to exist without judging others pic.twitter.com/AzRFCYhPTg

— Zizo Vokwana (@ZVokwana) September 13, 2021
She wrote in another post: "Always cute seeing fat girls' plates at functions, trrrrrrying to show us they eat little. Don't punk us."
lmao! RT @TshepiVundla: Always cute seeing fat girls' plates at functions, trrrrrrrying to show us they eat little 😂😂 don't punk us.

— ✨radical light✨ (@just_symphony9) November 19, 2013
Tshepi deactivated her Twitter account after the backlash.
ALSO READ: 'Skeem Saam' actor Patrick Seleka confesses to abusing his wife
I'm sorry
Tshepi has since returned to Twitter. She issued an apology for her remarks.
"I would like to apologise for my past posts on social media. They were mean and demeaning and there is no excuse for them.
"There is no way for me to erase the past. All I can do is learn from my mistakes and carry the learning with me moving forward," she said about the old tweets," she wrote.
The 30-year-old says she has grown as a woman, mother, and partner since posting the mean tweets.
"I have learnt many lessons on this journey, including kindness and empathy and that is how I live my life now and part of the lessons I impart on my son as well."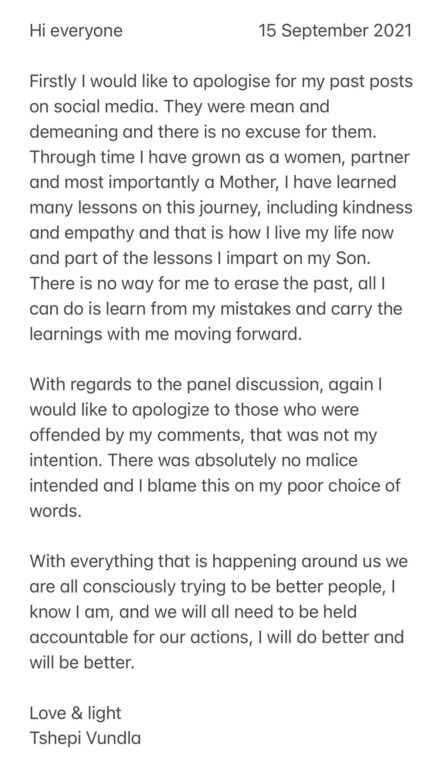 Main image credit: Instagram/@tshepivundla