Leaked videos showing a harrowing glimpse into AKA and Anele Tembe's troubled relationship have surfaced on social media.
The rapper has since released a statement proclaiming his innocence and stating that he is not a suspect in the ongoing investigations into Anele's untimely death.
However, since the videos have surfaced, many are questioning AKA's role in Anele's death.
Also read: AKA: I am not a suspect
Incident 1
In one of the videos, Anele is hysterical, trying to get away from friends who are attempting to calm her down.
She keeps repeating one line, "You guys don't know what he's been doing to me!"
This line got me ""You guys don't know what he's been doing to me"

Fuck AKA 🥺
#kiernan pic.twitter.com/mo4hxUmnBz

— ℤiphorator❼ (@ZiphoratorS) May 10, 2021
Incident 2
The second video is reportedly from an incident that occurred in December 2020 in their Bryanston apartment. In the video, Anele can be seen with her head in her hands rocking back and forth, crying uncontrollably asking for her mother.
The video gives a 360 view of the trashed apartment, with photo frames, broken glass, and other material possessions all over the place.
In the video, AKA can be heard saying, "Somebody here is under the influence. She tried to jump off the balcony. My eardrums are ringing. I think I burst my eardrums. I have a witness who witnessed that I did not fight back."
My heart just sank💔 #kiernan #aneletembe #anele #bonang pic.twitter.com/6gGqvKtUQ8

— ms_mellanie_sawyer 🎈 (@sawyer_co) May 9, 2021
Incident 3
There are also images from a video that shows AKA kicking down a door. Allegedly Anele Tembe had locked herself in a room trying to escape after an altercation.
This incident took place on 13 March 2021, a few weeks before the lobola negotiations, and reportedly left his now-deceased fiancée Anele bruised. A friend has handed her ice packs for the swelling and bruises.
According to AKA's statement, he is aware of who the sources engaging media are, and understands what their intentions are. He refers to Anele's funeral and every word that was imparted, those that were direct and the ones filled with innuendos.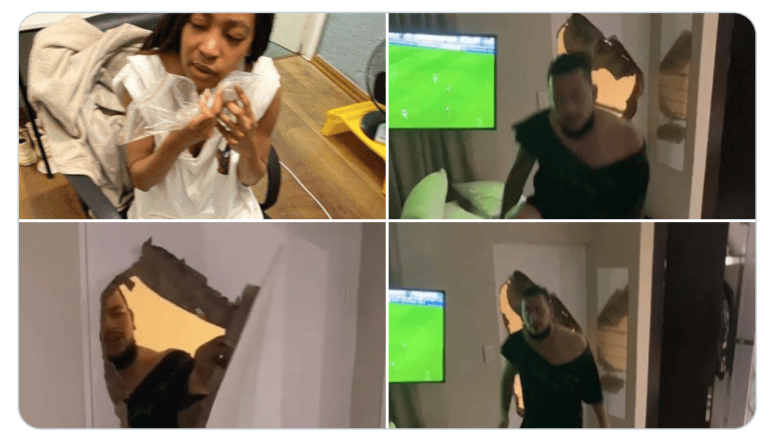 The leaked footage and images come a day after his live performance at the Nedbank Cup Final this past weekend, alongside Prince Kaybee.