By: Natasha Archary
It's time for Eskom CEO, Andre de Ruyter to go! This is the unified pleas from South African politicians, business owners and citizens who agree loadshedding has worsened under his tenure.
With the utility pushing the country into Stage 6 loadshedding this week, resulting in mass outages throughout Gauteng for days in some instances, people no longer want de Ruyter at the helm.
Political parties, the Black Business Council and angry South Africans all agree the time has come for de Ruyter to either step down or be fired.
Based on data from the Council for Scientific Research (CSR), SA has endured more loadshedding under de Ruyter than all his predecessors combined.
The number of hours of loadshedding and the deficit in generation capacity under Andre de Ruyter is higher than what was the country's worse loadshedding spell in 2015.
De Ruyter has previously said that part of the problem at Eskom is that previous management failed to conduct regular maintenance of equipment.
Since, he's taken on the role, de Ruyter has carried out more maintenance, but none of these efforts have had a positive impact on the country's energy crisis.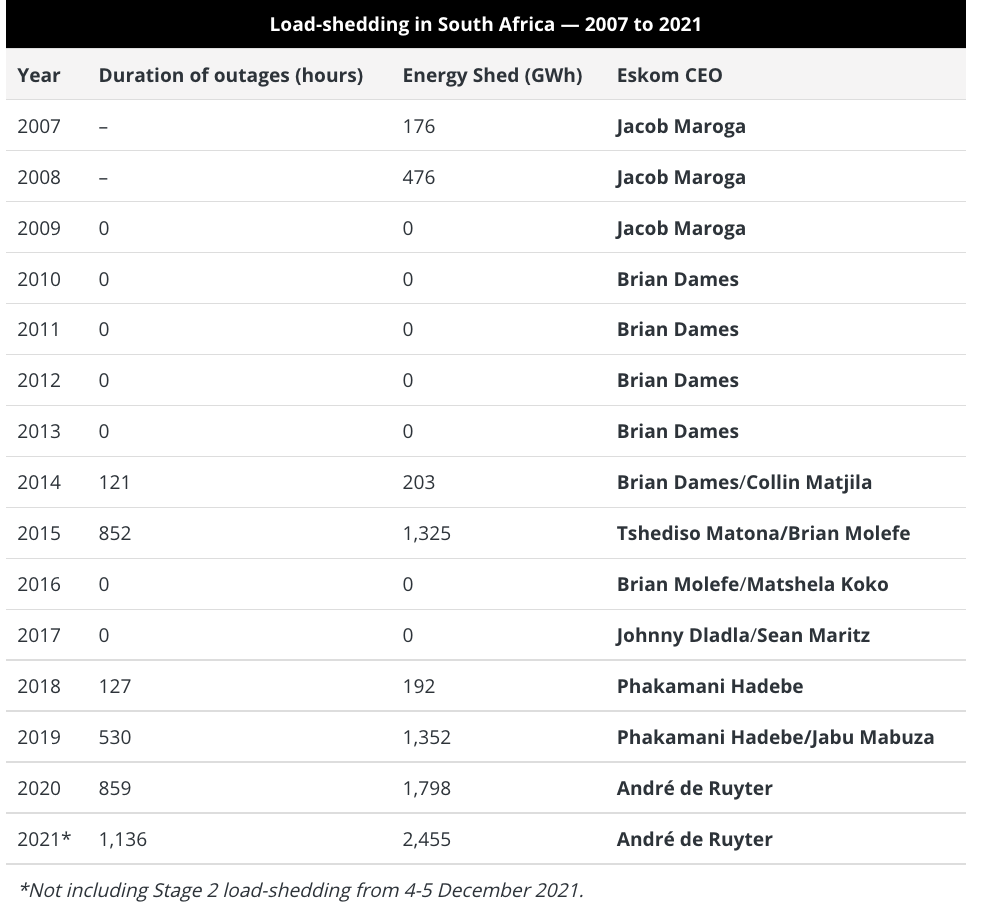 The Black Business Council (BBC), together with the EFF, African Transformation Movement and the SA Youth Economic Council have all put their voices behind calls for de Ruyter to go.
But it's not just de Ruyter that should leave, as the BBC suggests not only should he step down but take his entire board with him when they take that long walk off the plank.
"Our beloved country is becoming a laughing stock of the world and a failing state due to lack of political will to hold those who are paid to provide reliable electricity to account. We call for De Ruyter and the board to do the honourable thing and leave Eskom."

CEO BBC Kganki Matabane
The EFF say that de Ruyter would not still have his position if he were a black man that wasn't delivering.
"Pravin Gordhan and Andre de Ruyter have no legitimate claims to be in their positions. The only reason they have not been fired is down to racial favouritism. No black person would still be in this position if they were presiding over permanent darkness in South Africa."
And of course, de Ruyter spent the week trending on social media as a majority of South Africans called for his resignation.
Also read: ANC ordered to pay R100 million for election posters