By: Natasha Archary
Simphiwe Sibusiso Duma did not expect his Monday to include a surprise visit from his favourite on-air Kaya 959 personality Sizwe Dhlomo. The Kaya Drive presenter paid his 'superfan' a visit at his work in Benmore.
Simphiwe Sibusiso Duma is one of the regular Kaya Drive listeners, who doesn't just check in to sign the register on the show daily but his distinct voice has become a signature of the show.
Sizwe has often remarked on-air that Kaya Drive has the best listeners for their eccentric renditions on "Kaya Idols" to their valued feedback on the show's topics and their highly active online engagement with the polls.
So, while it was a difficult pick, Simphiwe Sibusiso Duma was chosen because of his love for Kaya Drive, the team and his consistency with both on-air and online interactions.
The visual artist who uses mediums such as graphite & charcoal couldn't believe that he was finally meeting Sizwe Dhlomo who handed him 24 Kaya Magic cupcakes, supplied by Baked By Opy and a special hamper with Kaya 959 branded gear.
Watch the moment Sizwe surprised Simphiwe Sibusiso Duma: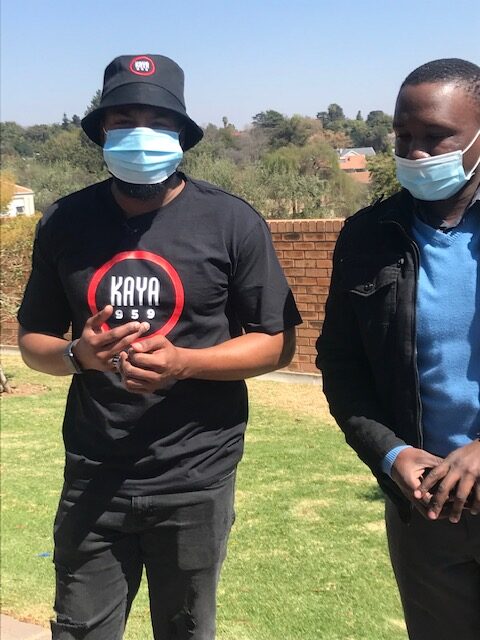 Taking to social media Simphiwe shared that his day had been made and he had already tucked into a few cupcakes.
Day made! Thanks to @SizweDhlomo for coming through I can't wait to rock these gifts. The cakes taste really good. #KayaDrive #OnTheStreetsOnTheAir pic.twitter.com/hkndcYZRFA

— Simphiwe Sibusiso Duma🇿🇦 (@Simphiwe_S_Duma) August 30, 2021
Producer Masego shared that, "Simphiwe is a Kaya Drive regular who never misses a show and will regularly sign the register, send a voicenote or call to express himself on the show. It's his consistency for the Kaya Drive team that makes him the show's superfan and one of the most loyal contributors. The show isn't the same without him."
Also read: Kaya Drive: Compliments in the workplace, harassment or flattering?