By Tamlyn Canham
Khanyi Mbau is sharing intimate details about her skin-lightening experience. The actress has spoken openly about bleaching her skin in the past.
But many have wondered how her daughter, Khanukani, feels about her decision to lighten her skin.
Khanyi finally revealed the answer on Instagram. She asked her followers what questions they would like her to address in her skin lightening series.
One user asked: 'What do you say to your dark-skinned daughter?'
Khanyi kept it real! She told the user that you simply have to tell your children that you're lightening your skin and wait for their response.
"[Kids] of today are emotionally intelligent. She will respond at her understanding. Now that's the question that actually matters. Address that! One thing [Khanukani] taught me is, our children are so clued up about us, they are woke. Open the line of communication, you will be pleasantly surprised. These thousands have incredible data," she replied.
ALSO READ: Six tips to help you take better care of your skin in summer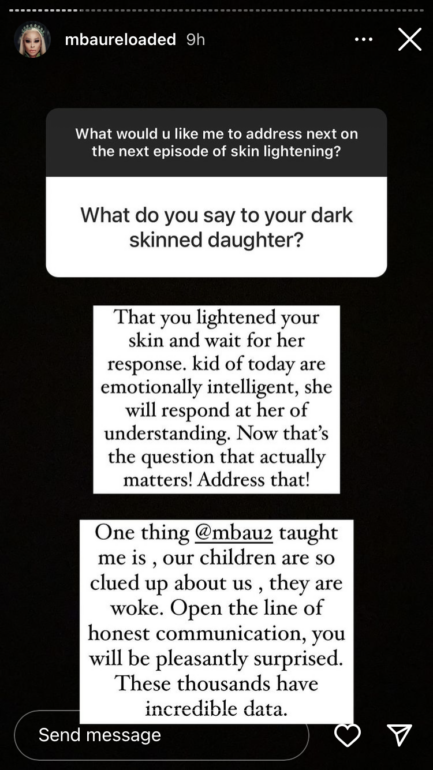 Khanyi's mini-me daughter
They may not have the same skin colour, but Khanyi and her daughter have a lot in common. They both enjoy having fun with fashion and are naturals in front of the camera.
Khanyi speaks highly of her daughter. She penned a beautiful message on Khanukani's 14th birthday in December last year.
"You have become such a strong, mature, funny and fun, intelligent human being that I am proud to call my daughter.
"I love you so much. Thank you for making me become the mom I am today because of your nature; it has moulded me. You helped me grow mentally and spiritually too," Khanyi wrote.
View this post on Instagram