By: Natasha Archary
"Sizwe Dhlomo woke up this Monday and chose violence" as Sandile van Heerden pointed out as the Kaya Drive host chose to give atchar a miss.
A condiment that may have originated in India but one that most South Africans (Sizwe excluded) have adopted as their own. Taking to Twitter over the weekend, the outspoken personality decided to start a campaign to "hold back the atchar" but the team wanted no part of it.
The KZN homeboy shared that he doesn't touch spicy food in general but he draws the line at atchar, saying "to my tastebuds, it's nonsense."
Previously on Kaya Drive the listeners shared some of their comfort food staples and the mango relish is a staple in many South African households.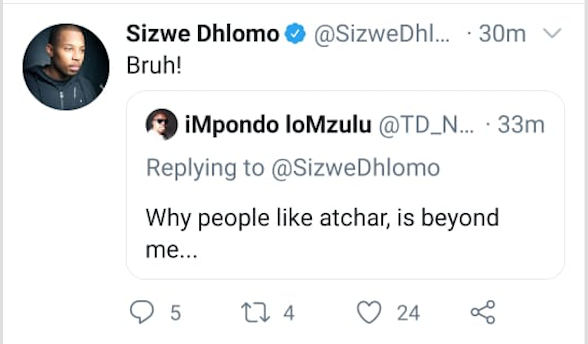 Siz picked apart everything that makes atchar what it is and pointed out that it's too oily, it seeps through your pores and causes body odour.
"Nobody is going to convince me to change my mind about atchar. The oil is nonsense. The taste is nonsense. This thing is nonsense," Sizwe gives atchar a miss.
Yeah, no, atchar must have really hurt Siz, shem!
While atchar spice does contain fenugreek seeds which can affect body odour, the pickle which is essentially what atchar is, can be made without it. The oil is also purely there to preserve the vegetables or fruit and does not need to be eaten.
Atchar is high in antioxidants from the fruit and veggies they're made from and because they're pickled fresh, it's packed in there and full of flavour. Something bland tastebuds won't know anything about.
Shots fired, Siz!
When included in a regular diet, atchar can help the gut and aid digestion but due to the high sodium it should be enjoyed in moderation.
Also read: 7 ingredients to make your own mango atchar
Kaya Drive listeners could not believe that Sizwe gives atchar a miss with a Kaya Drive kid urging him to try it out because it's good: