By: Natasha Archary 
"Strong women wear their pain like stilettos, no matter how much it hurts, all you see is the beauty of it."
Give a woman the right shoes and she can conquer the world. That's what Marilyn Monroe supposedly said and the Kaya Drive team is pretty sure that she meant stilettos.
There's something about a woman in stilettos, and there's a reason most women reserve these killer heels for a night out paired with the perfect outfit and it's because a good pair of stilettos makes a statement.
But what if a woman can't master the art of walking in stilettos? Well, then it can be disastrous, not to mention painful.
The last thing we want is to have you step out of the house looking amazing whilst wobbling around in stilettos like Bambi when the aim is to strut around effortlessly like a graceful gazelle.
Granted some women make walking in stilettos look easy but the truth is that it's a skill that requires a lot of practice because stilettos are some of the most difficult heels to walk in.
The tapered high heel is a firm favourite of stars on the red carpet and mastering the art of walking in stilettos is a requirement on the runway, or is it? Many runway models have stumbled during a live show and embarrassing entrance aside, it looked painful on their ankles.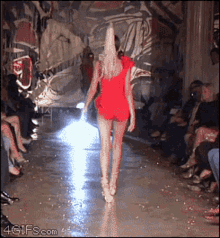 Watch high heel fails below:
Master the art of walking in stilettos with these 5 tips:
There are many types of heels to choose from and the most comfortable pair are wedges.
Before you master the art of walking in stilettos, learn to stand in them
Half of the secret to knowing how to walk in stilettos is learning how to stand in them. This is where the balance comes in. Once you perfect how to stand in stilettos, you're halfway there.
Practice walking in front of a mirror
This is one way to see where you're getting your footing incorrect and perfecting that.
Walk heel to toe not toe to heel
One of the reasons women find walking in stilettos and heels in general hard is because they tiptoe around instead of walking confidently. Taking steps on your toes can cause you to trip, lose your balance and this is often what makes walking in heels painful.
This is the most important tip. To avoid blisters you have to wear and walk around in your stilettos before you wear them out. This will also help you stretch your heels a little and make them a little more comfortable.
Kaya Drive listeners share their experiences and advice for walking in stilettos:
Also read: Is the comfort of the Balenciaga and Crocs stiletto worth it?