Kaya Drive is known for pushing us out of our comfort zones and yesterday's topic was no different. Sizwe asked what your thoughts were about men wearing sandals in public.
While some didn't mind, comfort first after all, others felt that it wasn't a good look especially if men didn't take care of their feet.
As Kaya 959's resident sports anchor, Sandile van Heerden mentioned, "When your feet are looking ashy, it kinda looks like the sandal is wearing the foot. Then it's wrong. It's like why are your feet so ashy?"
Sizwe loves wearing his sandals and rocks them everywhere and if you are the same gents, then we recommend you get a pedicure first before you put your feet forward in your favourite sandals in public. It's also a GQ requirement!
Also read: Mothers's day gift guide: 5 ideas for the modern mom
Why should men get a regular pedicure
Aesthetic reasons aside, there are many health and therapeutic benefits of a regular pedicure.
It's a little shocking that most men think it's a 'girly' thing to do and skip getting their feet buffed and treated.
Having a pedicure is not reserved for getting a splash of pink on your nails. It's about healthy feet.
Pedicures are meant to revive tired, achy feet and the exfoliating scrubs and massage at the end can improve circulation.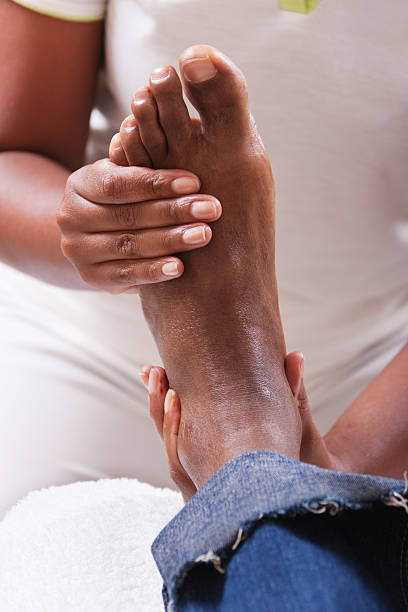 Here's what to expect at your first pedicure
Firstly, there are different types of pedicures to choose from, with some salons offering a caviar soak, pedi peels, express or full pedicure.
With most pedicures, your feet will soak in a tub of warm water which is instantly relaxing. Nail salons use scented oils and scrubs to invigorate your senses and the next 30 minutes to an hour will include:
a gentle exfoliation of dead skin cells on your feet and ankles,
buffing of the soles to remove calluses and to get feet smooth and soft,
your nails will be clipped and shaped,
your cuticles will be pushed back and softened
nails will be buffed to reveal natural shine
If you have ingrown toenails your nail technician will advise on treatment options and remedies to prevent them.
How often should men get a pedicure?
Pedicures are not restricted to just warmer seasons, your feet need care throughout the year especially during colder weather.
Depending on how fast your toenails grow, you can book a professional pedicure once every 4 to 6 weeks.
If you don't' feel comfortable getting a pedicure at a salon, you can opt for a mobile grooming service at the comfort of your home, alternatively, a DIY pedicure will work just as well.
The key is to invest in a toenail clipper which is designed to cut straight across the nail and prevent ingrown toenails. You will also need a callus remover or a foot file and a foot scrub.