Legendary boxer Floyd Mayweather dominates YouTuber Logan Paul but misses to hit the critical knockout strike. During their boxing match in Miami, Logan Paul escaped a knockout and managed to pull Floyd Mayweather to the final bell.
Floyd Mayweather fails to beat Logan Paul as the YouTuber claims a shock moral victory by going the full distance in their money-spinning exhibition.
It is popular with retired boxers and celebrities to put up money-spinning exhibitions. Mayweather, nicknamed "Money, " said he expects to make more than R674 170 000,00, while it's estimated that Paul will pocket around R269 668 000,00 with this exhibition that took place in the weekend.
According to boxing match rules and regulations, neither man was declared the winner, but Paul escaped from his unusual fight with the boxing legend with dignity.
Paul's last boxing bout had ended in a defeat against fellow YouTuber KSI, and he struggled to connect blows on Sunday night.
Mayweather, who retired in 2017 with a record of 50 victories and zero losses, landed a few blows, but Paul could fight back. Mayweather, 44, seemed comfortable and comfortably escaped Paul's blows early in the fight, smirking when an uppercut eventually struck in the third round.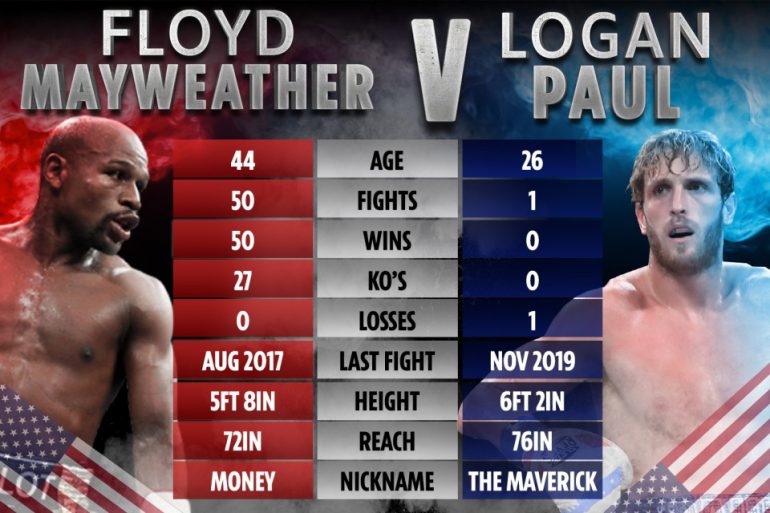 The YouTube star, who has 29 million followers on YouTube, said: "I don't want anyone to tell me anything is impossible ever again. "Everyone has it in them."
The eight-round fight was a showcase, but it drew a lot of attention and money in pay-per-view ticket sales.
Although there were no judges and no official winner (the fight could only be determined by knockout, technical knockout, or disqualification), both men were expected to make a decent income.
Floyd Mayweather actually knocked out Logan Paul, but held him up during the fight to carry it through 8 rounds 👀 pic.twitter.com/Y4JSimELIr

— FootBasket.com (@Foot_Basket) June 7, 2021