By: Natasha Archary
Mihlali Ndamase has broken her silence since rumours of her alleged affair with a married businessman broke last month.
The YouTube makeup vlogger is allegedly in a relationship with Leeroy Sidambe, and has come under fire with Twitter users labelling her a homewrecker.
While the thick-skinned influencer has chosen to remain silent on the matter, she draws the line with people getting her family involved in her affairs.
It seems that Mihlali's mother, Pumla Ndamase was at the receiving end of a few scathing text messages about her daughter.
This isn't the first time that the YouTuber has been accused of dating a married man or going after attached men.
The rumours were brought to light by controversial celebrity gossip blogger Musa Khawula.
Mihlali issued a statement on her Instagram stories on Thursday, 12 May after her mom received vile messages relating to her love life.
She maintains that she will not owe the public an explanation but has made it clear that her family is to be kept out of her business.
"I'm the public figure here, my family has nothing to do with what's said publicly about Mihlali. Please respect my family's decision to live a private life and leave them out of anything positive or negative being said about me."

Mihlali asks people to leave her family out of her alleged affair
The 25-year old seems unphased by the allegations and Musa recently dragged Mihlali after Sidambe shared a tribute to his wife on mother's day.
"Just like how you message me directly about the positive, let's keep the same energy regarding the negative. My family has nothing to do with the Mihlali brand!"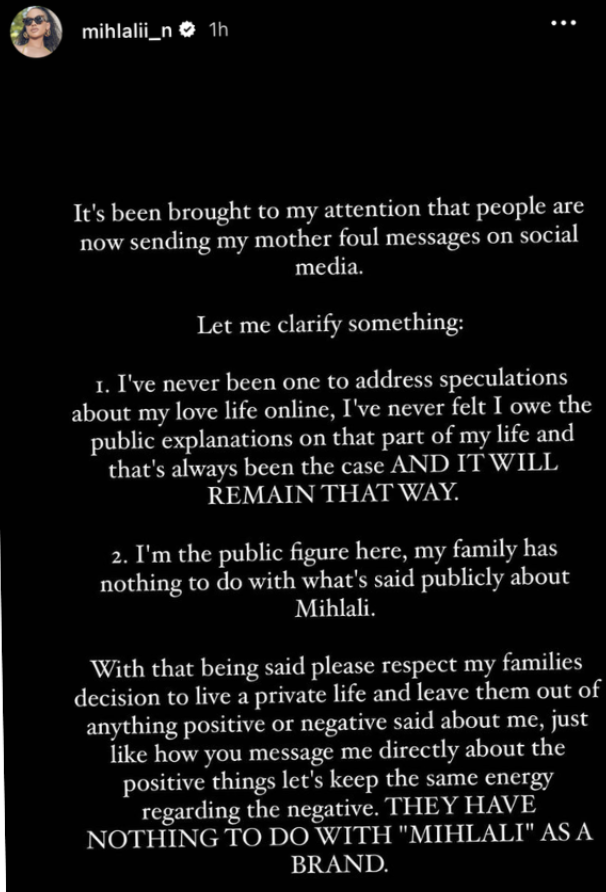 Also read: Jub Jub and Kelly Khumalo celebrate their son's birthday with touching messages