DJ Dimplez is dealing with a rape scandal that has sparked outrage over the stigma around male rape. After private conversations between the DJ and an unidentified woman surfaced online, Dimplez is reportedly opening a case of rape.
He claims that he was drunk and was not in the right state of mind to consent. The woman took to social media and shared the story of how she met the DJ at Cassper Nyovest's birthday party in November.
They then met up at other events when Dimplez eventually asked her to hang out with him but was reluctant to go to his place. The two booked at the Capital in Sandton.
Just saw this on IG😳 @AdvoBarryRoux @danielmarven
Your truly DJ dimplez got a baby on the way 😎 pic.twitter.com/PFuTOPVPDN

— EXPOSED💀 (@siyakenny1) May 25, 2021
READ:'Rape Day': A new video game glorifying sexual assault raises questions about regulation
The woman claims in her social media thread that Dimplez unlocked his phone and allowed her to take videos and pictures of themselves.
Things took a nasty turn after she fell pregnant and brought it to Dimplez's attention. He had apparently given her money the next morning to take the morning-after pill.
Their WhatsApp chats bro pic.twitter.com/UZRVzV2QUC

— EXPOSED💀 (@siyakenny1) May 25, 2021
She claimed the money was insufficient and she used it to get aspirin and a cold-drink as a cheaper "preventative" method.
Dimplez was not impressed with her failure to take the pill and screenshots from their WhatsApp conversations have since gone viral.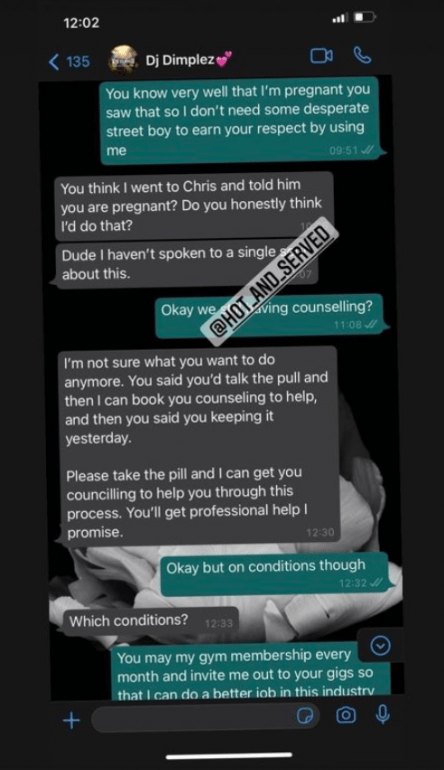 READ: "I decide who I want to sleep with" – Woman with seven husbands
The ordeal has left South Africans divided on male rape and the blurry line around Gender-Based Violence.
I don't believe DJ Dimplez was raped… I also see another example of a grown man engaging in grown acts with a young impressionable woman. How many more examples do we need before we as men look ourselves in the mirror and see or admit that we are architects of our own demise?

— #TheAuthority (@AuthorityNOTA) May 26, 2021
READ: DNA links suspect to almost 100 rape cases across Joburg
If a man is super drunk and is also slow and can't remember that he came inside you it also means he might not remember having sex with you. I'm sorry to do this to my gender but if the roles were reversed we would also cry rape. So why shouldn't DJ Dimplez? This seems calculated pic.twitter.com/lgqnnpvhvq

— Rarang 🇿🇦 Tabane (@simply_rarang) May 26, 2021