By Tamlyn Canham
There's the fashion police and then there is Dineo Ranaka's daughter. The media personality's daughter Kopano did not mince her words when sharing her opinion on an outfit she wore recently.
Dineo was dressed in a black see-through outfit that showed her underwear. While Dineo described her look as "perfection", Kopano was not feeling it at all.
"Your outfit is showing too much skin. It should not be showing too much skin, because it doesn't look normal. You should not be showing people your skin," she told Dineo.
The 37-year-old told her daughter that she meant for her outfit to show some skin.
"Yes, I know, it's deliberate," she told her.  Kopano did not back down and continued to tell Dineo that her look was too revealing.
"But why, who made those rules?" Dineo asked.  Kopano dragged her once again.
"Me, if you are staying under my house…, " the little girl replied before Dineo cut her off.
She told her daughter to stop disturbing her.
"I birthed myself here. She has a mouth on her here!" Dineo wrote on her Instagram Story.
ALSO READ: Dineo Ranaka's mom shares advice for dealing with daughters-in-law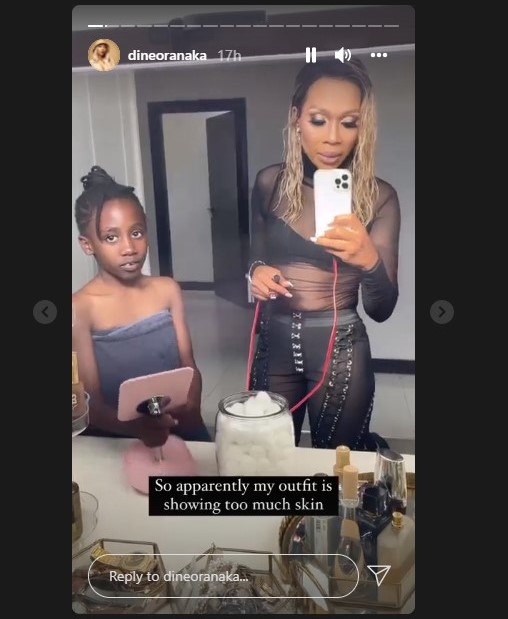 Dineo Ranaka is a stylish mom
Dineo gave birth to her third child in 2021.  She revealed the news in a sweet post she shared on Instagram in July.
"And unto me a child was born. Welcome to the family little one," she captioned a picture with the new addition to her family.
Dineo told True Love magazine in 2019 that her children are her biggest cheerleaders. But she said they are also not afraid to tell it like it is.
"If they like my mix, they usually respond with a song, complete with dance moves, that goes, 'Printing paper mommy!'. When I'm not mixing well, they will blatantly tell me, 'You're not allowed to get paid for that one!'" she told the publication.
Kopano may think some of her mother's outfits are too sexy, but Dineo looked all kinds of amazing in her see-through look!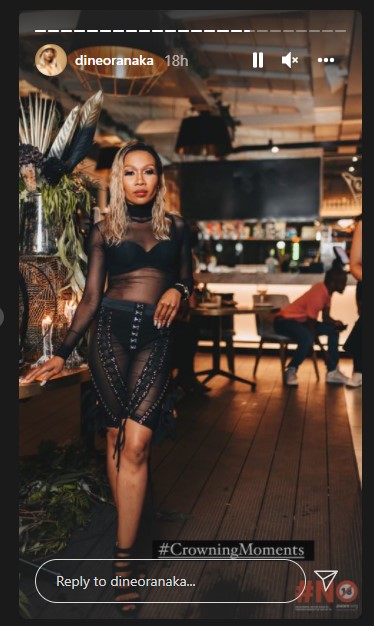 ALSO READ: Dineo Ranaka and Ntsiki Mazwai put their beef behind them