By: Poelano Malema
Bring the restaurant home with this delicious steak and vegetable recipe from chef Vukosi Mbambu. 
Steak is loved and enjoyed by many people. Whether grilled or fried, it is delicious.
What is also great about a steak is that it is filling.
Why not learn how to make steak like a chef by following this recipe from chef Vukosi Mbambu of VKings Kitchen?
The good thing with the recipe is that it doesn't require a lot of ingredients and you can enjoy with a choice of your favourite veggies.
READ: Must-try Asian shrimp in pita bread recipe
Utensils
-Stove
-Pan
-Cooking spoon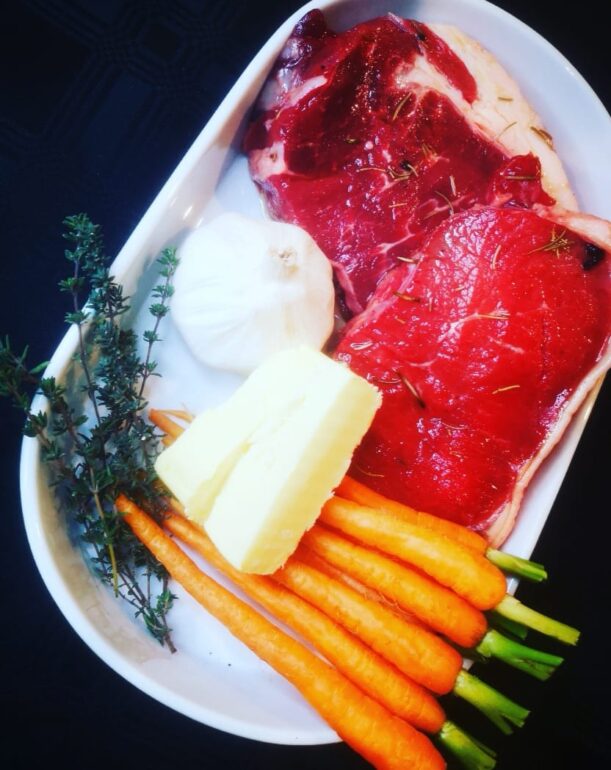 Ingredients
-Beef steak
-Butter (Margarine)
-Garlic cloves
-Thyme (Herb)
-Salt and Pepper
-Spice
-Vegetables of your choice
-Mushroom sauce (Mushroom n whipping cream)
Method
-On a medium heat stove, place your pan.
-Put your steak in the pan and allow it to heat up for 2 minutes on each side.
– Add in butter and the Thyme herb and start frying while flipping the sides until its cooked from the outside (Can take up to 10 minutes) .
– If you have any vegetables, pour them in when the steak is cooked and allow them to fry with the same oil from the butter.
– For the mushroom sauce, just add in mushroom and fry them with butter and pour cream and black pepper.
– Serve with potato mash, pumpkin mash or vegetables and mushroom sauce on top.