By Tamlyn Canham
Bonang Matheba is one of the most successful women in South Africa. However, despite her success, she still has to deal with societal pressures such as having children.
The media personality became a topic of discussion on Twitter after one tweep questioned why she does not have any babies.
The Twitter user shared a side-by-side picture of Oprah and Bonang. He captioned the post: "I don't understand why they don't wanna have kids so that the legacy extends."
Another tweep replied: "Bonang neh?"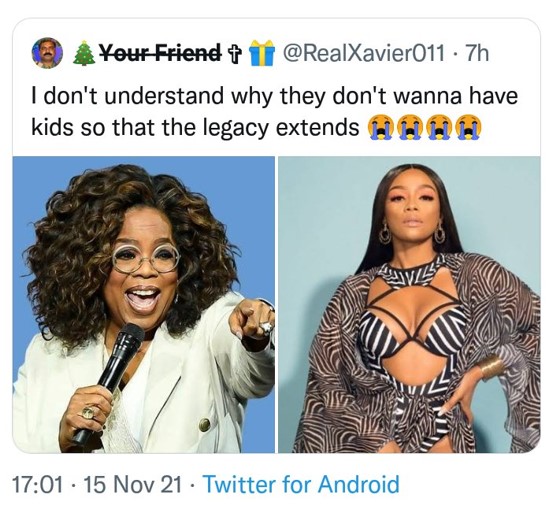 Bonang came across the post and gave the men a piece of her mind.
"Go f**k yourselves," she replied.  Queen B's fans were shocked that the Twitter user had the audacity to ask such a personal question.
"Stop asking people why they don't have kids or when they are having kids. It's annoying and disrespectful!!! People go through a lot," one woman wrote.
Mohale Motaung also commented on Bonang's tweet. 
"People are weird," he wrote.
People are weird 😨

— Mohale Motaung (@mohale_motaung) November 15, 2021
ALSO READ: Mohale Motaung launches his new skin care range
Bonang Matheba
Bonang Matheba has been focused on building her empire over the past decade, but she hasn't ruled out having children.
She hinted last month that she is ready to have babies. She made the comment while gushing about her mystery boyfriend.
"….I love this boy. Finna give him some babies," she tweeted.
ALSO READ:Bonang Matheba can't get enough of her man: 'I love this boy'
….I love this boy. Finna give him some babies. 🥰❤️

— Bonang Matheba 👑 (@Bonang) October 16, 2021
Bonang also talked about having babies with her man during an Instagram Live in June. She was celebrating her 34th birthday at the time.
She told viewers that she plans on "giving him children". Queen B also revealed why she has not revealed his identity.
"He's so shy guys… I can't show you his face shame," she said. Bonang added that she also likes keeping her man a secret for business reasons.
"I made more money when I didn't have a boy attached to me. It's so funny I make money when I don't have a boyfriend."
ALSO READ: Bonang Matheba reveals 'disturbing news' about management team
View this post on Instagram