By Tamlyn Canham
DJ Zinhle is going into 2022 as the top female DJ in Africa.
DJaneTop has named the 'Siyabonga' hitmaker the number one DJ on the continent. The Top 100 list is compiled based on audience votes.
Zinhle topped the DJane list for the fourth year in a row. She was the number one DJ in Africa in 2020, 2019, and 2018.
"The #ZeeNation fights for this one every year, thank you!" Zinhle wrote on Twitter.
READ: Watch: DJ Zinhle, Murdah Bongz, and Kairo Forbes celebrate baby Asante
Dineo Ranaka, who is in 20th place, joked that she is coming for Zinhle's title.
"Congratulations mami! I'm chasing your spot you know this right #inspirationalcompetition That time I'm all the way at 20," she commented on Instagram.
Lerato Kganyago dropped one place to claim the #3 spot – making way for DNB Gogo, who is in the number two position. Zinhle beat DNB Gogo by more than 9,000 votes.
"Thank you to my children all OVER Africa that keep lifting me higher and higher even in my absence. MOTHER appreciates YOU," Lerato wrote on Instagram.
DBN Gogo also celebrated making the top three. "Congratulations to all the ladies. It's been a year," she wrote.
ALSO READ: DBN Gogo's new video is a tribute to Mpura
South Africa claimed most of the top 10 female DJs spots.
Amar Million, Miss Pru, DJ Kasi Duch, and Lamiez Holworthy also made the top 10. Lamiez has featured in the top 10 three years in a row. Her highest position was number two in 2019.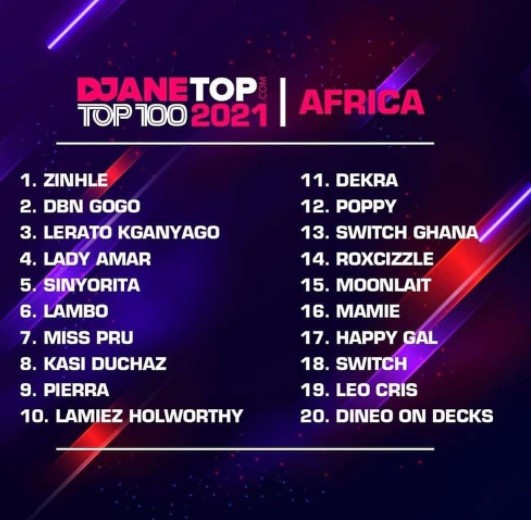 How much does it cost to book DJ Zinhle?
DJ Zinhle is one of South Africa's most in-demand DJs. It reportedly costs around R100,000 to book the star for a gig.
The amount is up from 2015 when she reportedly earned R70,000 per appearance.
Zinhle is also doing well as an entrepreneur. The 37-year-old has several businesses to her name, including Era by DJ Zinhle.
She also has her own line of wigs, and is building her property portfolio.
DJ Zinhle famously revealed in 2015 that she does not have any debt. She says she pays all her bills on time, including her TV licence!
"I don't owe anyone anything, I pay my SANRAL. I pay my taxes, I paid my TV licence in advance," she told Gareth Cliff on Cliffcentral.
ALSO READ: DJ Zinhle reportedly opens fraud case after employee steals R500k