Model TV presenter Ayanda Thabethe got social media talking after she shared that she's escaping "the madness" and heading to her holiday home.
In a now deleted Tweet she said she is "Grateful to be in the privileged opportunity to escape the madness to our holiday home… Figuring out how to get food to my family is what's weighing heavily on my heart. I'm going to need to do this till things are okay and who knows how long that will take …"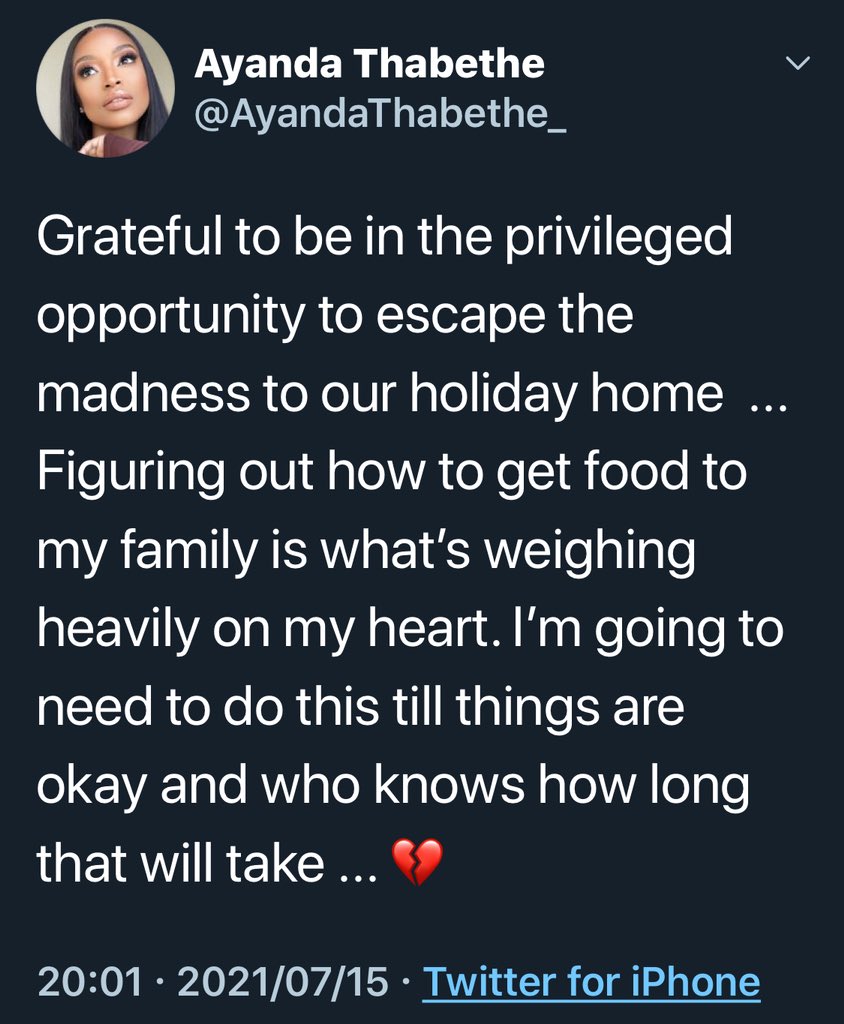 Also Read: Vaxfit! Terry Pheto joins the 35+ crew and gets vaccinated in style
Tweeps reacted to her tweet saying she was flexing her 'black privilege' and was caught be tweet being bragging and being woke.
Ayanda Thabethe is the reason why I believe that rich people should stay away from social media during these times.

We are happy for them but we are sensitive right now, life is excessively unkind to the majority of us.

— ❄Queen In The North❄ (@BossladyMsibi) July 15, 2021
I fucking hate a person that shoves their privilege in the faces of the poor and that's what Ayanda Thabethe loves doing. She always takes the time to remind us how privileged she is and how lucky she is that she went from being a receptionist to being who she is today. Boring 🙄

— #FreeBritney (@moe_suttle) July 15, 2021
Not ayanda thabethe saying

"Y'all poor " pic.twitter.com/Sa5GGNfXDI

— Kèlow Christopher 💭 (@kelow_C) July 15, 2021
Also Read: WATCH: Most shared looting videos – Looters that broke the internet
King Shaka Airport busy today
There's also been a hive of activity in the King Shaka Interrnational Airport as many family escaped the chaos happening in the province. The province has also been reportedly having food and fuel shortages.
As President Ramaphosa visits areas affected by rioting, King Shaka Airport is very busy this morning. "I'm taking my family to Cape Town for a while, we just need to get away from it all" pic.twitter.com/xV6HcGKnSm

— Nomsa Maseko (@nomsa_maseko) July 16, 2021
King Shaka Airport pic.twitter.com/yMlrwqBxBv

— Nomsa Maseko (@nomsa_maseko) July 16, 2021