Kaya 959 Reporter
A leaked letter sent to the members of ActionSA has revealed that members are no longer allowed to say anything negative about the Democratic Alliance.
The letter was sent by ActionSA's chairperson Michael Beaumont, on the 24th November, a day after the election of the Ethekwini council executives.
Beaumont reportedly verified that the letter is real, and that ActionSA members are allowed to publicly criticise the African National Congress only and not parties ActionSA wants to partner with, like the DA.
Also Read: ActionSA rakes in township votes as IEC tallies up election results
In the letter he says, "To create an environment conducive to such, all structures and members of ActionSA are directed to cease any form of public criticism of the DA or any party, other than the ANC, that we may seek to build coalition arrangements around,"
"This is necessary to ensure that an environment of mutual trust can be built between parties during these discussions and to ensure that ActionSA must never be viewed as placing politics before the people of our country." said Beaumont.
See the letter below: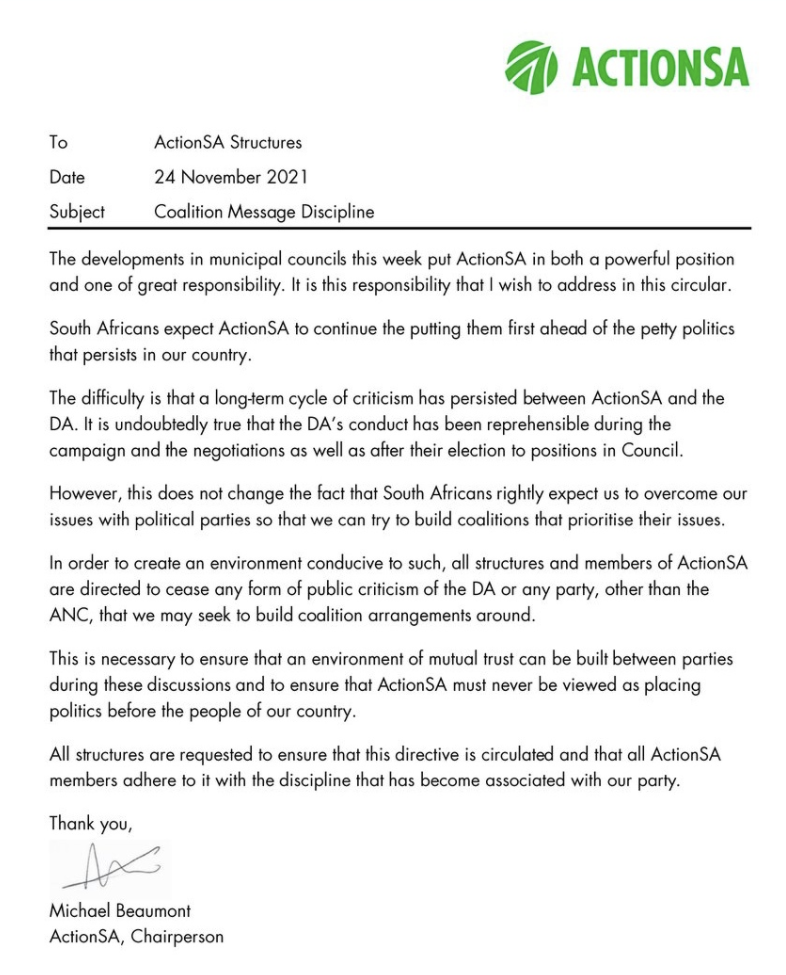 Also Read: Democratic Alliance loses Nelson Mandela Bay municipality to the ANC by 1 vote
Herman Mashaba released a statement earlier this week saying that they as Action SA are ready to work with the Democratic Alliance.
"ActionSA is absolutely committed to putting aside all past experiences with the DA to work together in the interests of service delivery, fighting corruption and job creation.
"We demonstrated this yesterday with our votes and not just our words."
"As we have committed to in the past, we will be open about these negotiations to ensure that the nature of all proposals prioritise the needs of residents.
"This is particularly important given that this should have been done before mayors were elected." – He said.