By: Natasha Archary
YouTube influencer Lasizwe Dambuza who recently came under fire over his "R10 goes a long way campaign," issued a statement regarding the R2 million funding scheme.
The campaign was set up by Lasizwe and his team to help students with their fees and it started last year during the pandemic, asking the public for just a R10 donation.
Lasizwe started off the movement by pledging R10,000 of his own. Soon what started off as R10,000 grew to R100,000 in 15 hours, and R400,000 in less than 24 hours.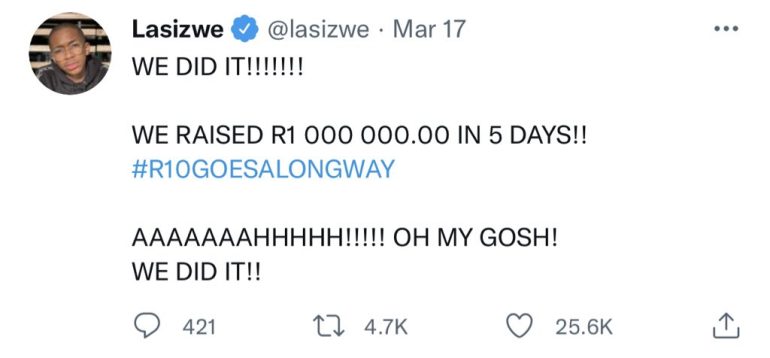 Within 5 days the campaign reached the R1 million target that was initially set but pledges continued to pour into the R2 million funding scheme.
Last week Twitter users began questioning the "Drink or Tell the Truth" host over where the money was and how many students had benefitted from the fund.
Taking to his social media Lasizwe said it was the first time he and his team started a "crowdfunding" initiative, they decided to partner with Fundi to manage everything.
Fundi was given access to the funds, a total of R1 072 462 and people wanted to know what happened to the rest of the money.
According to Lasizwe, some companies that pledged to the campaign have to get tax clearances and "it's been a long process." He said that it was disappointing that those students who did benefit from the fund chose to remain quiet when questions around the fund surfaced.
OFFICIAL STATEMENT REGARDING THE 2 MILLION: For immediate release pic.twitter.com/ETaC0r6kCI

— Lasizwe (@lasizwe) August 28, 2021
The influencer seemed emotional in his video statement and said if this is how South Africans choose to react to a campaign that was intended to help students with their registration fees, then he will not be continuing with the funding scheme next year as it was too stressful.
Also read: Twitter asks Lasizwe what happened to the R2 million collected for #FeesMustFall students