By: Natasha Archary 
Since the latest crime stats for Q1 2021/2022 were released, there has been a notable increase in hijackings throughout the country. Gauteng accounts for 21 of the 30 highest hijacking hotspots reported during this period.
Police minister Bheki Cele used crime data from Q1 2019 as opposed to Q1 2020 to make the comparison due to the lockdown from March 2020 which would impact the statistics.
"We cannot compare the same period of this year and last year, due to the skewed and abnormal crime trends, caused by the different levels of lockdown," Cele said.
From level 5 lockdown at the end of March 394 hijackings occurred as opposed to 1,376 hijackings in June when the country moved to a level 3.
Cele called the national level 5 lockdown a 'crime holiday', one that is long gone as hijackers are now more desperate with most hijackings reported in Gauteng.
A total of 2,704 hijackings were reported in Gauteng followed by KZN at 820 and the Western Cape at 589.
The top 5 areas in Gauteng that are considered hijacking hotspots are as follows:
Sandton
Kempton Park
Tembisa
Olievenhoutbosch
Midrand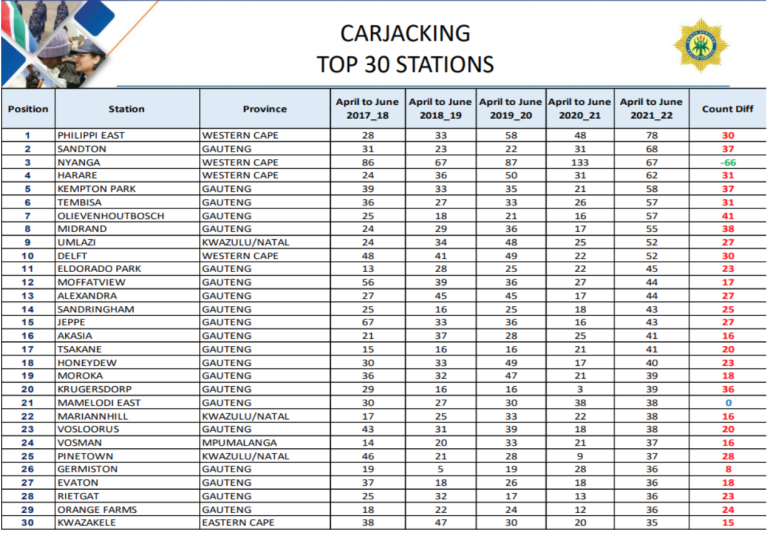 According to data released by vehicle-tracking company Tracker, shows that hijacking has increased over the past 3-years. Most hijackings are an opportunistic tactic and according to case studies, it's a matter of wrong place, wrong time.
"There are cases where drivers carrying large amounts of cash are being targeted. South Africans are urged to be wary and remain vigilant, especially when returning home from shopping or when goods bought online are delivered to their homes. Hijackings are often violent, and there are instances where a hostage is taken," Duma Ngcobo, chief operating officer at Tracker South Africa.
Other tactics include criminals impersonating law enforcement officials to commit hijackings, a method otherwise known as 'blue light robberies', he said.