By Kaya 959 Reporter
Three suspects were arrested following a high-speed chase in Kelvin near Sandton on Thursday.
Two suspects were injured during the shootout with the Technical Operation Management Services (TOMS), one surrendered unharmed. The officers were unscathed.
Hawks spokesperson Captain Lloyd Ramovha said the trio aged 31, 37 and 39 had been on the Hawks' radar for about a week or so.
"They are said to be part of a syndicate that targets people who withdraw large amounts of money from banks and then follow the victims home or intercept the motorists along the way before they rob them.
"Two unlicensed firearms and a VW Golf that they used have been recovered on the scene. At this stage charges of attempted murder, possession of unlicensed firearms and ammunition are being preferred. They are expected to appear in the Wynburg Magistrate's Court soon," he said.
ALSO READ: Bail denied for man accused of kidnapping Pretoria mom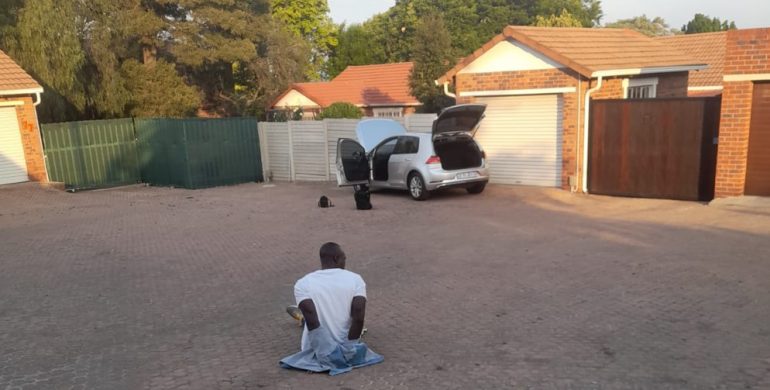 Operation O Kae Molao
Meanwhile, nearly 200 suspects were arrested in ongoing Operation O Kae Molao efforts in Kagiso on the West Rand.
Spolice spokesperson, Colonel Dimakatso Sello said Gauteng SAPS provincial commissioner Lieutenant General Elias Mawela on Thursday led a multidisciplinary delegation through the streets where they arrested people wanted for various crimes.
"During the operation, 180 suspects were arrested for various crimes, including possession of unlicensed firearms, possession of drugs, possession of suspected stolen property, illegal mining and contravening the Immigration Act.Traffic fines to the value of R96 350-00 were issued. Two unroadworthy vehicles were impounded, five firearms together with illegal mining equipment such as phendukas,  shovels and spades were confiscated," Sello said.
Police said parallel to the operation, social crime prevention together with other stakeholders took to the street to engage with community members of Mnandini and Tshepisong in Kagiso.
They discussed issues such as sexual offences, domestic violence, rapes and robberies.  Pamphlets speaking on domestic violence, road safety and firearm violence were distributed.
Lieutenant General Mawela emphasised that, although the police have their hands full, they will continue to soldier on in ensuring that authority of the state is stamped and criminals are brought to the book in Gauteng.
ALSO READ: Travel experts welcome SA's removal from UK Red List