By: Natasha Archary 
The South African Human Rights Commission (SAHRC) warns the public against fake news being circulated around "contaminated noodles."
This comes after increased panic over the consumption of 2-minute noodles following the deaths of 5 children.
On 9 November reports of 3 Eastern Cape children who died after allegedly eating the noodles emerged. Since then another 2 children from Limpopo have reportedly died after eating the popular 2-minute noodles.
The SAHRC has noted with concern messages being shared on social media which claims there's a possible contamination of the noodles.
Fake news suggest the products have been tampered with by foreign nationals. The Commission assures the public that the Department of Health and SAPS are still investigating any possible tampering of the "contaminated noodles."
At this stage there isn't a link between foreign owned businesses that sell the product. The Commission stressed that authorities would communicate if there's is cause for concern.
Panic arose after foreign nationals were accused of tampering with the noodles out of revenge. Something the Commission strongly urges the public to stop spreading as fake news.
Health authorities have considered a possible recall of the products concerned once their have evidence of contamination. The public is urged to stop forwarding messages that link foreign nationals to possible contamination.
Meanwhile, the Department of Health stresses the importance of good food hygiene when handling, preparing and storing food.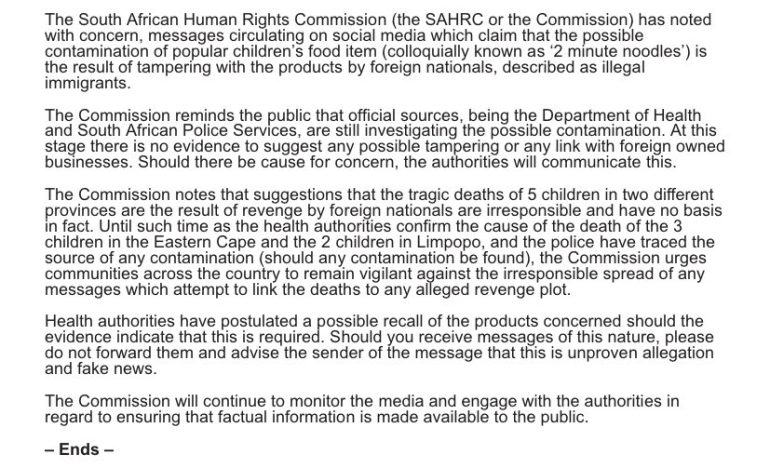 Also read: Soweto body parts case: Man to undergo mental observation after suicide attempts