By Kaya 959 News
Police have arrested one man and recovered cocaine hidden in a ski boat.
Hawks spokesperson, Colonel Katlego Mogale said officers intercepted the man who was travelling on the N1 north, near the R21 Flying Saucer interchange.
She said the multi-disciplinary team made up of SAPS Narcotics Enforcement Bureau, Pretoria Serious Organised Crime, Tactical Operations Management Section, received information of a vehicle carrying drugs.
"It is alleged that a bakkie that was towing a 12-foot ski boat was stopped after information was received. Upon searching the boat the team found 800kg of compressed pure cocaine with an estimated street value of R400 million," Mogale said.
Investigations are continuing and more arrests are imminent.
READ: Police seize 100s of fake COVID-19 vaccines in Gauteng
Suspect due in court
The Directorate for Priority Crime Investigation National Head, Lieutenant General Godfrey Lebeya lauded the team.
"The drug seizure has dealt a blow to these illegal activities of international organised criminal groups. We shall leave no stone unturned in addressing the proliferation of illegal drugs for either local consumption or for transit to other jurisdictions," Lebeya said.
The suspect is expected to appear in the Pretoria Magistrates Court on Friday.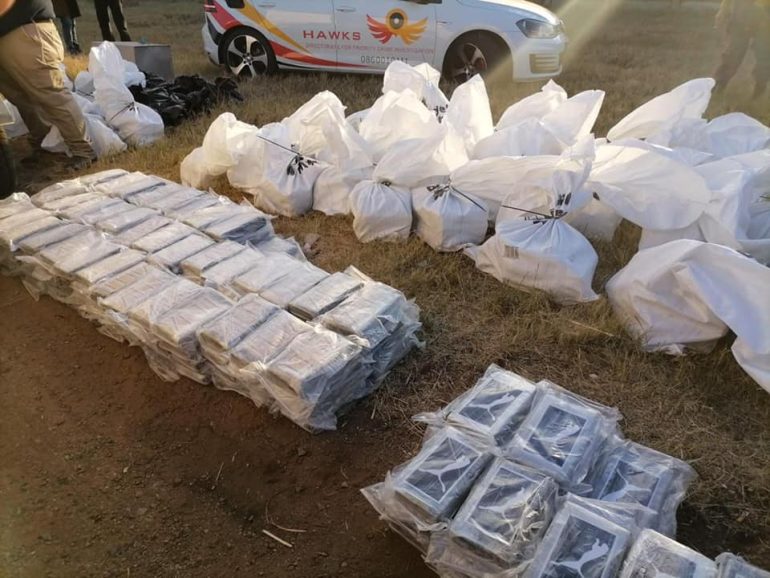 In 2019, Australian border police arrested two men in New South Wales after 384kg of cocaine was found hidden in an excavator, which had been shipped from South Africa.
This was the biggest ever single drug bust in the history of the Australian federal police.
Police put the street value of the find at the equivalent of R1.4 billion.
Australian police said it took them two days to open the second-hand excavator, remove the cocaine, substitute it with a dummy payload, and return it to its original condition before allowing it to continue on to its destination.
READ: SAPS operations net 1043 wanted suspects
Manager arrested for fraud and corruption
In a separate investigation, a manager based at the Auditor General's office in Lynwood has been arrested on charges of fraud and corruption.
The suspect, who is due to appear in the Randburg Magistrate's Court on Friday, is accused of taking a bribe of R3000 to secure documents for a foreign national's daughter.
Police spokesperson, Captain Ndivhuwo Mulamu, said a 47-year-old foreign national visited the Department of Home Affairs in Randburg to apply for a South African passport for his 14-year-old daughter.
"Upon a systematic interview with the Immigration Officers, the suspect allegedly failed to produce citizenship rights which permitted him to possess a South African smart identity card and also a birth certificate for his teenage daughter," she said.
Further allegations are that the suspect pleaded with the Immigration Officers to give back his smart ID card and daughter's birth certificate in exchange for R3000 gratification.
Hawks' Serious Corruption Investigation in Johannesburg conducted a sting operation which resulted in the arrest of the suspect after the alleged transaction took place at the Home Affairs premises this week.
Mulamu said further investigation revealed that both the identity smart card and birth certificate possessed by the suspect were fraudulent.  The suspect was subsequently charged with fraud and corruption