South African organisations now have to ensure they are fully compliant to the provisions of the Protection of Personal Information Act (POPIA), which is officially in full effect as of today the 1st of July.
Thomas and Skhumba asked Kaya 959 listeners how comfortable they were with people sharing their numbers with other people.
POPIA establishes eight minimum requirements for the lawful processing of personal data, but the provision most fraught with risk is arguably security safeguarding
What information does the POPIA Act protect?
POPI includes all information relating to a person and applies to anyone who keeps any type of records relating to the personal information of anyone.
This includes race, gender, age, disabilities and health issues, religion, any identifying number, email address, physical address, telephone number or other particular assignment to the person, personal opinion, views or preferences of the person; correspondence sent by the person of a private nature and biometric information of the person.
Therefore anybody who keeps personal information has to take steps to prevent the loss, damage, and unauthorised destruction of the personal information.  They also have to prevent unlawful access to or unlawful processing of this personal information.
Also Read: Flexible working: being office bound doesn't increase productivity
What should every organization start doing?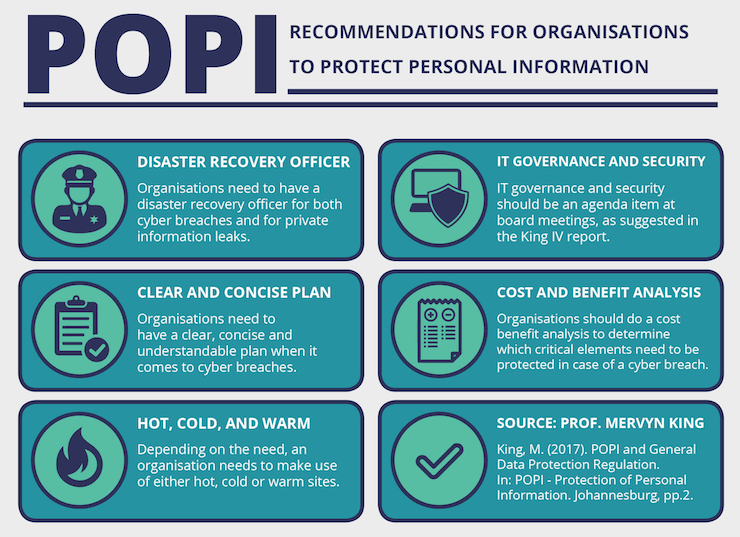 What are the fines and penalties for non-compliance?
The fines and penalties vary depending on the offence, with a maximum of 10 years in prison or a R10 million fine.
What does POPI mean for consumers?
Consumers will benefit from POPI's requirements in that their personal information must be protected and it can only be collected or handled where there is a lawful justification for doing so.
POPI gives consumers specific rights in respect of organisations handling their personal information and it gives consumers greater control over their personal information. Consumers are informed about what personal information is collected, by who and why so that consumers are able to make informed decisions.
Visit www.popia.co.zato read up more on this very important Act