South Africans who have followed the story of Nonhle Shandu and her little girl Anentokozo over the years have been left saddened by the 6-year old's passing.
Her mom shared the devastating news on her social media account this morning.
She caught me crying and said "ma I know you're sad coz I'm sick, don't cry" wangihlikihla ingalo. My perfect little angel. I had so much to do with you, so much love to give you. Waze wangizuma.

— Nonhle 🤍 (@__Nonhle) June 17, 2021
Rest well sthandwa sami. Kubuhlungu but you fought. Phumula manje 🤍 pic.twitter.com/kGvS2fD7eX

— Nonhle 🤍 (@__Nonhle) June 17, 2021
The bubbly Anentokozo was diagnosed with leukaemia in 2017 and after treatment went into remission but in August last year, the little one relapsed and was back in the hospital.
Leukaemia is a cancer that starts in blood-forming tissue, usually the bone marrow. It leads to the over-production of abnormal white blood cells, the part of the immune system which defends the body against infection.
Nonhle Shandu, the Durban-based mom started a crowdfunding account last year to help with her daughter's medical expenses. Nonhle described her daughter as "a talkative and bubbly little person who fought to the very end".
There's been an outpouring of love from those who were rooting for Anentokozo all these years:
Anentokozo fought hey, I don't think I've ever seen a child that strong and smart . Even the day Nonhle tweeted about when she had to explain her illness to I think her cousin or was it Nonhle's little brother I shed a tear.

Ngiyamzwela uNonhle manh 💔🥺

— Nonny_Mpata (@Nonny_Mpata) June 17, 2021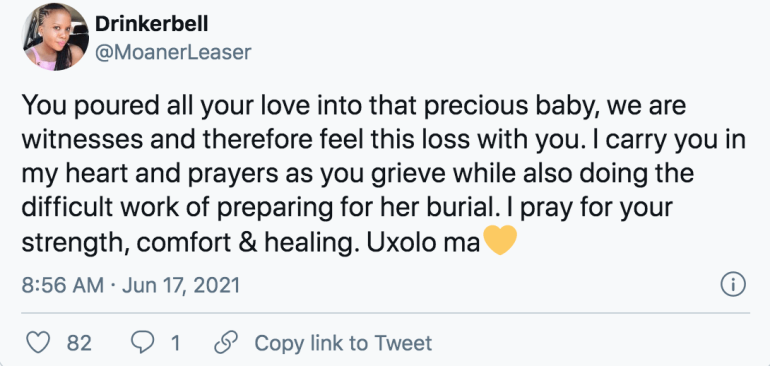 My heart goes out to you Nonhle❤️
I cannot imagine the pain you are going through right now.

May God give you strength to face today and the days to come.

Your little girl fought a good fight, we were all rooting for her 💔😢 https://t.co/X2cgfVY5As

— Philile (@DrMom_Cooks) June 17, 2021
Also read: Sindi Dlathu to give away 3 designer dresses to 3 deserving matriculants