By: Kaya News Reporter
Residents of Johannesburg will be paying up to 14.59% more for electricity when the tariff increase kicks in from 01 July. The increase will include service and capacity charges for electricity, refuse, property waste, as well as water and sanitation.
The increase will hit ratepayers hard from this month and it comes amid the Level 4 lockdown which is impacting the country financially.
Here's a breakdown of the tariff increase which will be in effect until June 2022.
Electricity
Only residents who use less than 500kWh per month will be exempt from the 14.95% increase in tariffs for electricity.
With larger users and businesses expected to fork out an additional 2% surcharge.
Customers, please see the approved Prepaid tariffs for the financial year 2021/22 respectively from NERSA. @CityofJoburgZA pic.twitter.com/pSE4J4tXHT

— @CityPowerJhb (@CityPowerJhb) July 1, 2021
Refuse
Residents can expect to pay 4.3% more for refuse.
Properties valued under R1 million can expect to pay between R147 and R245 each month. Properties worth between R1 million and R5 million will now pay between R258 and R384 per month. 
Water and sanitation
Residents will have to pay 6.8% more for water and sanitation services, with businesses also being liable for a 2% surcharge. 
The first six kilolitres of water will be free. Six to 10 kilolitres will cost R20.28 per kilolitre a month. More than 50 kilolitres a month will set consumers back R60.65 per kilolitre.
This is how the rest of the country compares: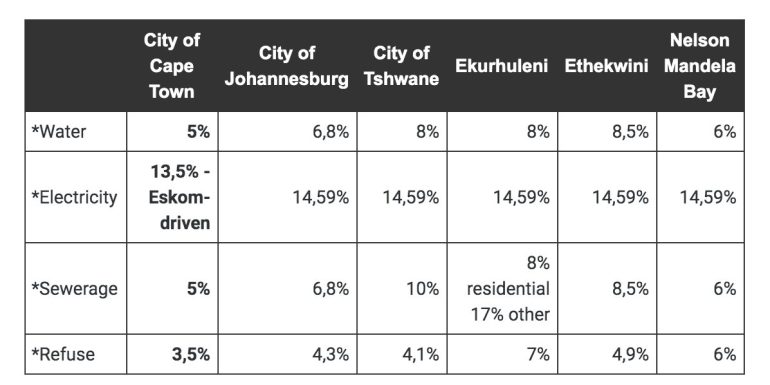 Also read: Concourt rules Ramaphosa didn't wilfully mislead parliament