By Tamlyn Canham
Linda Mtoba wants women to feel more comfortable about their stretch marks and cellulite.
The former 'Isibaya' actress shared pictures of her stretch marks on her Instagram Story with a special message. She says "it's okay" to have the indented streaks.
"Cellulite, stretch marks, it's all there and it's okay. I never ever want you to see a picture of me and have it make you feel unpretty," she wrote.
Linda says it is not always easy loving your body, but she embraces the skin she's in.
"It took a lot to get to a point where I'm comfortable in my own skin and every day we work a lil more at self-acceptance."
ALSO READ: Real life vs Instagram: Thickleeyonce gets real about beauty standards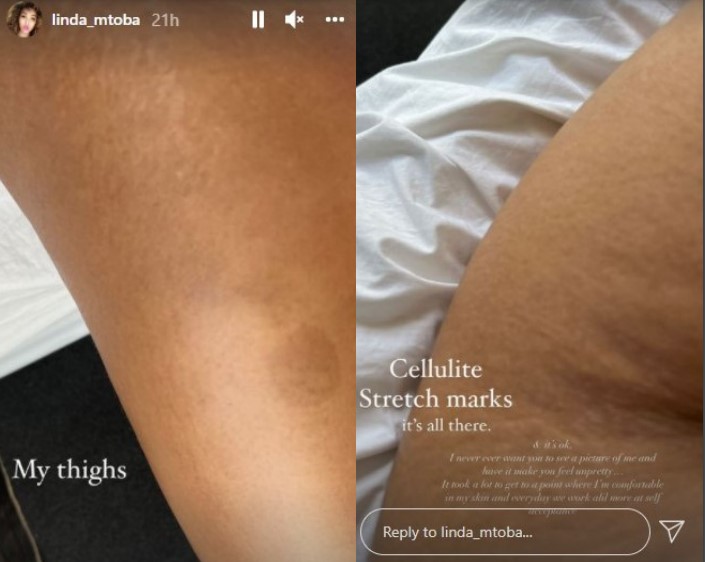 Linda Mtoba talks about post-pregnancy weight loss
Earlier this year, Linda spoke about struggling to love her body post-pregnancy.  The 30-year-old welcomed her first child with her husband, Steven Meyer, in October 2019.
She wrote a poem about how she felt about her body in June.
"I remember touching you and feeling a stranger, in the darkness I'd hold you hoping you'd feel familiar. I'd run my fingers down you and try to find traces of you, the old you but this was new. You weren't there, I wasn't there," she wrote.
Linda says she had to get reacquainted with her body as it felt "so bruised, so stretched, so not me".
"It took a while but soon I could [bear] looking at her with the lights on. The grooves of her body started to feel familiar. My touch to her skin didn't feel like strangers meeting. My reflection in the mirror became a familiar greeting."
She is a lot more comfortable in her skin these days.
ALSO READ: PHOTOS: Linda Mtoba celebrates her 30th birthday in style
View this post on Instagram