By: Natasha Archary 
The Department of Correctional Services confirms that former president Jacob Zuma who underwent a surgical procedure on Saturday 14 August is to remain in hospital.
Earlier in the week, Zuma's defence team argued that he missed his court appearance in his arms deal trial due to him being ill with his "life-threatening" condition.
According to the DCS, Zuma is set to undergo further medical procedures in the coming days and as a result the department is unable to ascertain when the former statesman will be discharged from hospital.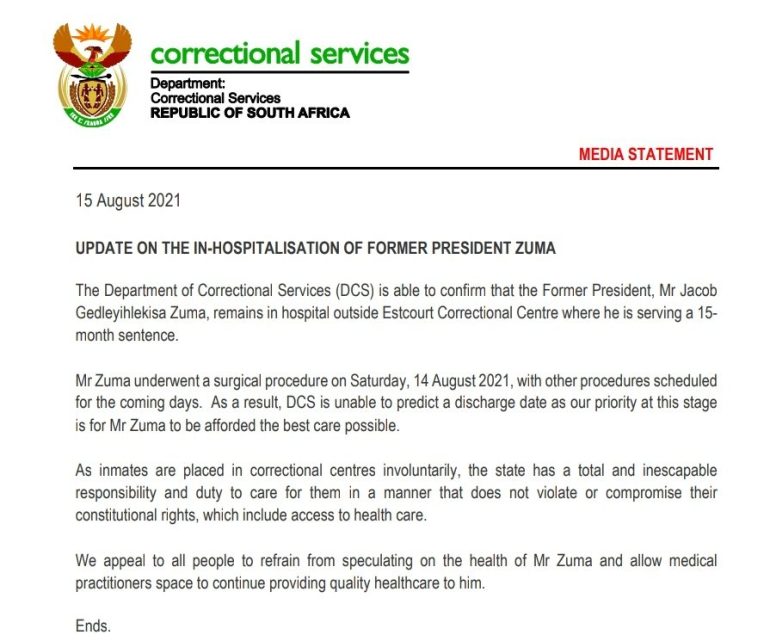 Jacob Zuma is currently serving a 15-month prison sentence in the Estcourt Correctional Centre in KwaZulu-Natal for contempt of court.
"As inmates are placed in correctional centres involuntarily, the state has a total and inescapable responsibility and duty to care for them in a manner that does not violate or compromise their constitutaional rights, which include acces to health care," the department explained in a media statement.
The DCS has urged people to refrain from speculating on the health of Mr Zuma and allow medical practitioners space to continue providing quality healthcare to him.
His doctors have until 20 August to submit a detailed report on his medical condition and Zuma will also be assessed by a state-appointed medical practitioner.
Zuma was taken to an undisclosed hospital last week for medical observation after a report to Pietermaritzburg High Court judge Peter Koen indicated the former president's health had taken a turn for the worst.