Former President of South Africa, Jacob Zuma has done the unthinkable and handed himself over to police on Wednesday night.
Zuma had been convicted to 15-months in jail for contempt of court in his corruption case. Police were prepared to arrest Zuma if he failed to hand himself in as the deadline for the arrest was Sunday.
However, Zuma filed an application last Friday to appear before the Constitutional Court who agreed to hear his rescission application on 12 July.
The former president had until Sunday to turn himself over to police, however, there was confusion around arresting him from Nkandla due to a large group of supporters who were present.
For fear of unnecessary violence erupting on Sunday, Zuma was spared but police minister Bheki Cele was given until midnight on Wednesday to make an arrest.
With pressure mounting for Jacob Zuma to hand himself over, he finally decided to comply and drove to the Estcourt prison. The Jacob G Foundation released a statement late on Wednesday evening confirming this.
Dear South Africans and the World.
Please be advised that President Zuma has decided to comply with the incarceration order.
He is on his way to hand himself into a Correctional Services Facility in KZN.
A full statement will be issued in due course.#WenzenuZuma

— JGZuma Foundation (Official) (@JGZ_Foundation) July 7, 2021
"Detention without trial is unlawful and unconstitutional. Moral authority earns respect only when the Constitution is not violated by ANYONE." – J G Zuma Foundation
His son Edward Zuma and a group of supporters blocked the entrance to Nkandla vowing that no one enters or leaves the premises without starting a blood bath.
Armed with a stick Edward was resolute in defending his father but it seems Jacob Zuma made the decision to comply and handed himself over to the police.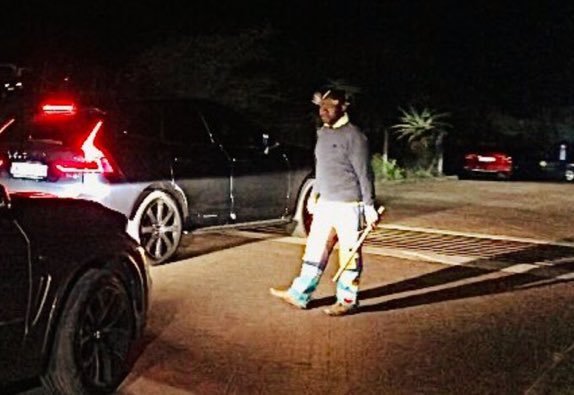 This is the first time a president of South Africa has been imprisoned.
Also read: Concourt agrees to hear Zuma's recission application on 12 July
South reacts to Zuma handing himself in:
Yhoo!! Y'all can judge me all you want for feeling sorry for u Baba but I'm heartbroken 💔 😭😭. Angikho right #ZumaArrest pic.twitter.com/vusKBTNHz2

— Dunyiswa Mlotshwa (@dunyidunyi) July 7, 2021
I DID MY BEST, WE DID OUR BEST COMRADES BUT THE OLD MAN MADE HIS CHOICE 🤷‍♂️I RESPECT HIS DECISION, BUT TO RAMAPHOSA & ZONDO THIS IS NOT OVER🤞YOU HAVE DECLARED A WAR & WE GONNA FIGHT THIS TILL THE END 😭 #ZumaArrest

— Edward Zuma (@Edwardy_Zuma) July 7, 2021
Black people should celebrate #ZumaArrest we should be harsh and show no mercy on our own. Our leaders know our pain and suffering more than anyone else yet they take advantage of us and drive us deeper into poverty. pic.twitter.com/y229jMtvAV

— Mohale 🐦 (@MoLeboko) July 7, 2021