While Lee-Ann Liebenberg took time off her social media after airing her marital problems over the weekend, where she "named and shamed" Emily Kark has lawyered up and will be taking legal action.
At first, her husband's PR team thought that Lee-Ann's account was hacked after she took to Instagram to share that her husband and her would be parting ways.
Lee-Ann cleared up the confusion the next morning with a very clear statement, "I have not been hacked! You can have him Emily Kark."
Also read: "You can have him!" Lee-Ann Liebenberg throws in towel after 10 years of marriage
Emily Kark is believed to be a businesswoman and a mom herself but didn't respond on social media to Lee-Ann's online accusations.
Since the public outburst about her marriage, things seemed to have died down with many believing all parties were handling matters privately. However, as reported by YOU, Emily is not taking matters lying down and has hired lawyer Ulrich Roux to represent her.
Which resulted in Lee-Ann taking to her Instagram account late on Monday evening to post a retraction and apology to Emily.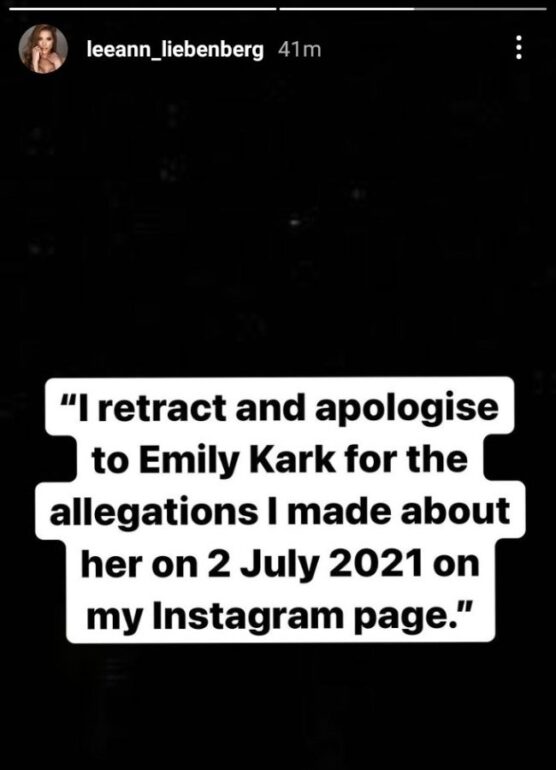 "The apology is the result of legal action taken by me because of the completely baseless and untrue defamatory allegations levelled against me," Emily wrote on her Instagram Stories.
Emily's account is private but she has thanked her family and friends for the love and support shown to me after the last few days. She also thanked her legal representative for getting the job done so quickly.
Lee-Ann's husband Nicky van der Walt called for privacy while the couple resolved their marital issues. He cited his wife's postpartum depression for her emotional outburst.
The couple shares three children, with their youngest a few months old and have been married for 10 years.