By: Natasha Archary
US rapper Drake has seemingly shut down an Instagram model's claims that he put hot sauce in a condom after sex.
On Monday, the unnamed model leaked her version of events to US media after claiming she spent a night with Drake.
He's not called Mr Certified Lover Boy for nothing.
The woman claims that Drake had connected with her on Instagram and the two decided to "hook up."
According to reports, the model said she had consensual sex with Drake who used a condom.
Afterward, Drake went to the bathroom to dispose of the condom. She then fished the condom out of the bin in an attempt to impregnate herself.
"It felt like pouring hot lava into my private parts," she shared with the blog site.
The woman claims Drake admitted to putting hot sauce into the condom to "kill the sperm" after he heard her screaming in the pain.
She now wants to sue Drake, despite her extreme attempt to trap him if she fell pregnant.
Since the rumours circulated, Drake seems to have shut down the model's claims. 
He shared a fire snap with the caption, "You can have your 15 minutes of fame…I'll take the other 23 hours and 45 mins!" 
The story was so bizarre that Drake and his supposed hot sauce became a trending meme.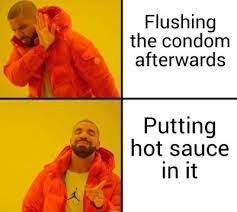 View this post on Instagram

 
Also read: Tristan Thompson cheats on Khloe again, with baby No. 3 on the way