By Kaya 959 Reporter
Ten people were killed in a horrific bus crash at Tugela Bridge on Tuesday afternoon. The Eldo Coaches bus was travelling from Durban to Johannesburg when it veered off the roadway and overturned.
KwaZulu-Natal EMS spokesperson Robert McKenzie says 60 people were treated for various injuries and stabilised at the scene. They were then transported to the hospital for further care.
Part of the highway was closed for clean up operations. The road was cleared and re-opened to traffic just before 8pm.
"Our heartfelt condolences go out to the families of the victims of today's crash, and we wish all injured passengers a speedy recovery," said Thania Dhoogra, operations manager of the N3 Toll Concession.
ALSO READ: Search continues for missing crewman after luxury houseboat fire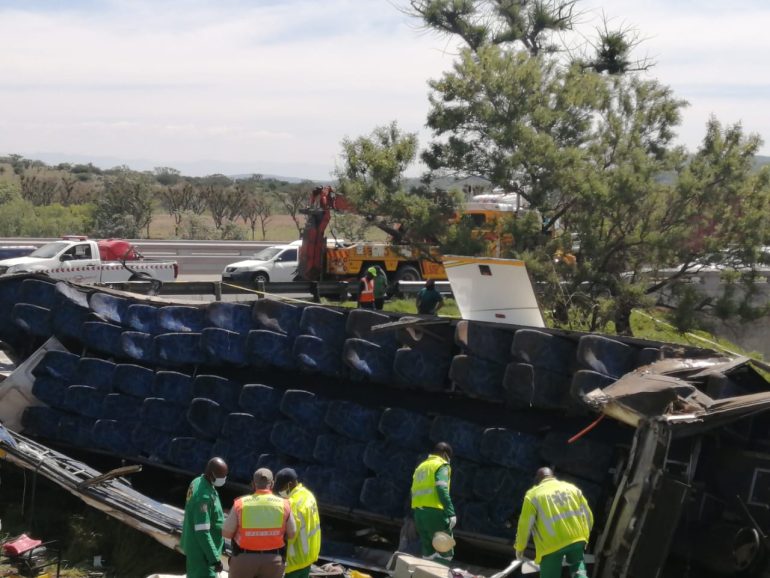 Eldo Coaches 'deeply saddened'
Eldo Coaches says the coach departed from the Durban Station on Tuesday morning. It says it is deeply saddened by the crash.
"We are doing our best to assist all passengers that we are on board. All emergency and medical services are present on scene. We are currently getting in touch with all emergency contacts of the passengers that were on board," Eldo Coaches said in a statement.
The bus allegedly suffered a blow out of the front wheel tyre and the coach rolled.
Eldos Coaches says it is cooperating fully with local authorities to ensure that the accident is thoroughly investigated.
"This is an active incident, we will update the public as soon as we receive any further information. Eldo Coaches wishes to extend our condolences to the families of those who were affected by this tragedy and assures the community of our ongoing support during this difficult time."
Anyone who may have had a family member or friend travelling on the coach can contact Eldo Coaches via 011 852 6120 / 011 940 8088 / 012 323 5475.
ALSO READ: Local Government Election possibly the most fascinating one since 1994