By: Poelano Malema
Poverty is a big concern in South Africa.
Many families struggle to make ends meet. This results in some children not being able to afford to go to school and some of them go to bed hungry.
It is these disheartening conditions that led Nkele Maubane, a 45-year-old from Hammanskraal, to take it upon herself to change her community.
The mother of four started the Bohlokwa Bja Ngwana Safe Centre in 2015 after seeing so many children in her area struggling and the high rate of dropouts in the area she resides.
She believes that it takes a village to raise a child and availing yourself to be a blessing to someone else can change their destiny.
Maubane says she was tired of seeing kids as young as ten years of age dropping out of school and turning to substance and alcohol abuse.
"I used to work as an Early Childhood Development Practitioner, while working I saw so many challenges in my area," says Maubane.
She says she then began to do research, going around schools and visiting families in her area to find out what was causing so many kids to drop out of school.
"At first, I thought it would be kids who have no parents, but found that even kids that had parents were still struggling. Some of them, the parents were there physically, but not present," says Maubane.
She adds that poverty was also a big contributor to the high school dropout rate and challenges within families also affected how kids performed at school.
"Kids from dysfunctional families performed poorly at school or sometimes even dropped out."
READ: Youth Day: Six inspirational young South African celebs
The pain of seeing so many kids throwing away their future birthed a desire to help them.
"The community has forums for disciplining children, but I realised some of the methods were not right. These kids were crying out for help and needed to be listened to," says Maubane.
The manager says she then opened a centre where she started helping children with their schoolwork.
"We also have youth programmes and workshops to help the kids. We motivate them to become better. We teach them that your background doesn't have to be a stumbling block to the future that you desire."
Maubane says she even offers the kids food daily.
"Some of the children don't even have food at home, so we try to give them one meal a day," says Maubane.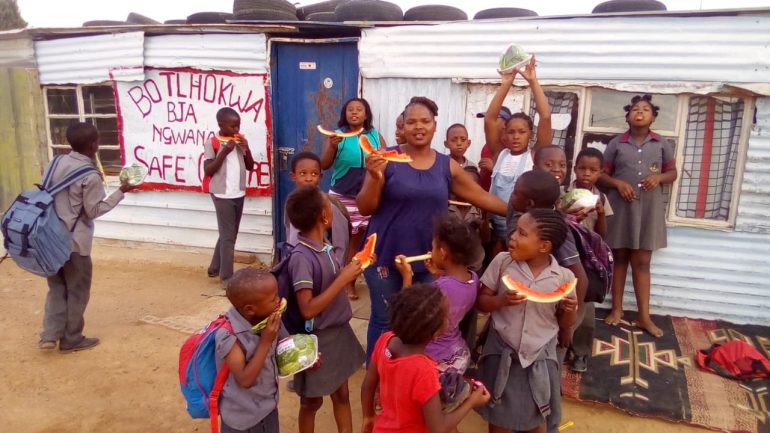 Although her centre does not have any donors, Maubane says she has been getting help from some parents who would pay R60 on a monthly basis to help her run the programme.
"However, some of the kids come from such disadvantaged backgrounds that they don't even have any money to offer, and we still help them," Maubane continues.
The centre is run by Maubane with the help of four other women and community members who volunteer to clean and work in the garden.
She says her main objective is to get kids off the streets and offer them a chance at a brighter future.
"We want to give them a purpose in life and help them realise the importance of education because it is what will open doors for them and help change their destiny."
READ: Master KG and Ndlovu Youth Choir to perform together for charity