"Pablo" the two-piece looted leather sofa was recovered slightly damaged from an informal settlement in Quarry Road, Durban a few km's away from the store it was taken from in Springfiled.
Taken two weeks ago during the looting incidents that shocked the country, the sofa that retails close to R70K became a viral meme when it was sighted on the pavement outside an informal settlement.
The store called on the public to help track the looted leather sofa and they were willing to trade the couch for something that would fit the house it was found at, no questions asked.
Leather Gallery SA, didn't give up on finding their highly valued sofa and their efforts paid off.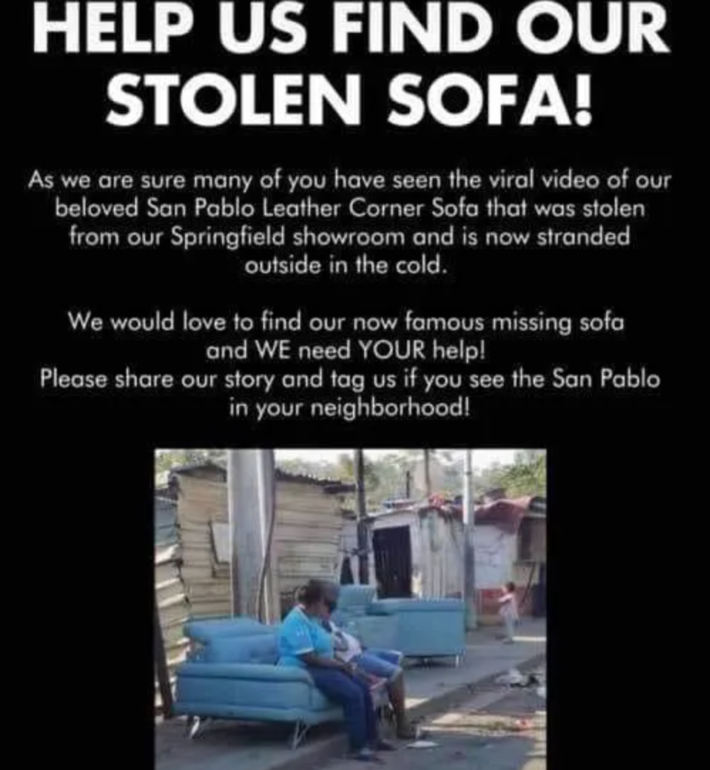 The couch gained online popularity with many social media users creating memes, GIFs and Tik Tok video content about its dilemma of being out in the cold and not in the high end showroom.
Police have been recovering looted items in both Gauteng and KZN over the past week:
#sapsKZN King Cetshwayo District Eshowe: 36yr-old male arrested for possession of unlicensed fireams & ammo on 26/07 at his homestead in Habeni. He is due to appear at Eshowe Magistrate's Court today. Police also recovered suspected stolen goods. #RejectAndReportStolenGoods ME pic.twitter.com/gcs30lpAue

— SA Police Service 🇿🇦 (@SAPoliceService) July 27, 2021
#sapsKZN Ethekwini District: #SAPS Verulam continue with ops to recover stolen goods. Members operationalized info leading to the recovery of stolen goods. Arrests made. #DontBuyStolenGoods #RejectAndReportStolenGoods #CrimeStop #MySAPSApp ME pic.twitter.com/F2wlbIjzZe

— SA Police Service 🇿🇦 (@SAPoliceService) July 27, 2021
#sapsKZN More stolen goods recovered yesterday by Ladysmith #SAPS members #RejectAndReportStolenGoods #DontBuyStolenGoods #CrimeStop #MySAPSApp ME pic.twitter.com/c4qFQ7fqy5

— SA Police Service 🇿🇦 (@SAPoliceService) July 26, 2021
Also read: SA's cheapest electric car will cost just R15 to charge