By: Natasha Archary 
South African cricketer Quinton De Kock would rather withdraw from the national team than bend his knee. The sportsman made headlines this Wednesday after he refused to follow the directives of Cricket South Africa (CSA).
In a statement CSA said they had come to the decision to enforce that all players kneel before the match to create solidarity against racism in the sport.
Several industry heads pointed out the disparity in positions players were taking which led to the Board's decision.
"After considering all relevant issues, including the position of the players, the Board felt that it was imperative the team take a united front. Several other teams at the World Cup have adopted a consistent stance against racism and given the country's history, it was time all SA players did the same." CSA shared in a statement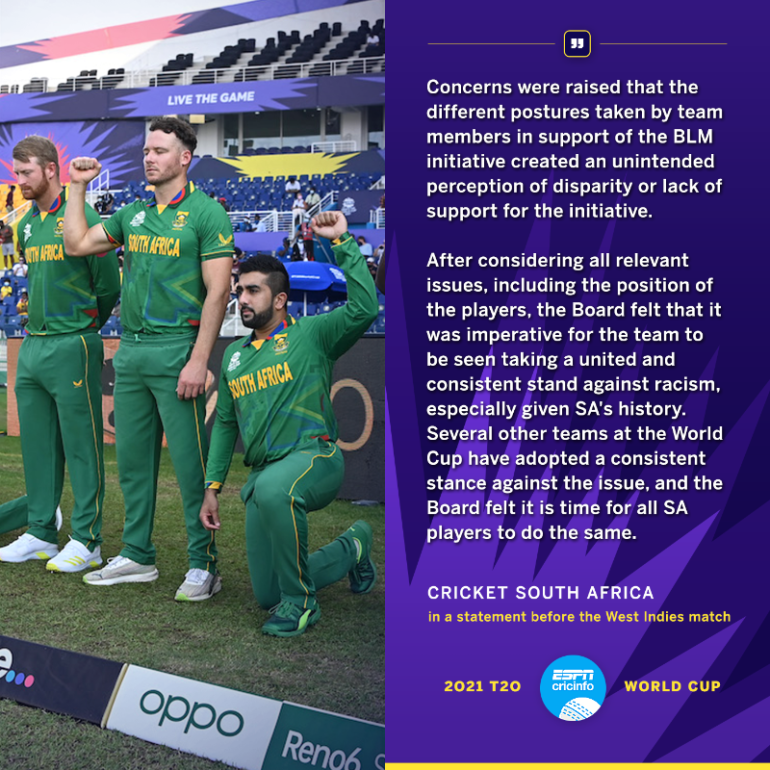 SA wicketkeeper/batsman Quinton De Kock refused to comply and support the Black Lives Matter movement. This is not the first time De Kock has failed to show solidarity to the movement.
In June De Kock said that his reasons for not partaking in gestures that support the movement were entirely his own.
His stance does not sit well with many South Africans:
Rhino is more important than black lives.

There are many Quinton de Kock out there just pretending. pic.twitter.com/0psRMAGNnW

— Mr Hara (@MphoWaHara) October 26, 2021
While Quinton de Kock and his friends are refusing to kneel, other people are kneeling at the #T20WorldCup.

#BlackLivesMatter #SAvsWI pic.twitter.com/zAvmsx5T8x

— Chief Erican, MBA (@EricanSA) October 26, 2021