Dj Tira has gotten South Africa talking again, following this what happened this weekend.
He hosted an event this past weekend that and decided to rock the boat by posting unmasked patrons on social media despite knowing grooves are not allowed.
Tweeps wasted no time and took a screen grab of Tira's post as he's been deleting a lot of tweets of late. Last week Tira trended because he tweeted that unvaccinated people would not be allowed to attend his Fact Durban Rocks event.
In a now deleted Tweet that got him into a social media mess Dj Tira is seen entertaining his guest and debuting new music.
Also Read: No vaccine card, no entry – Dj Tira on Fact Durban Rocks 2021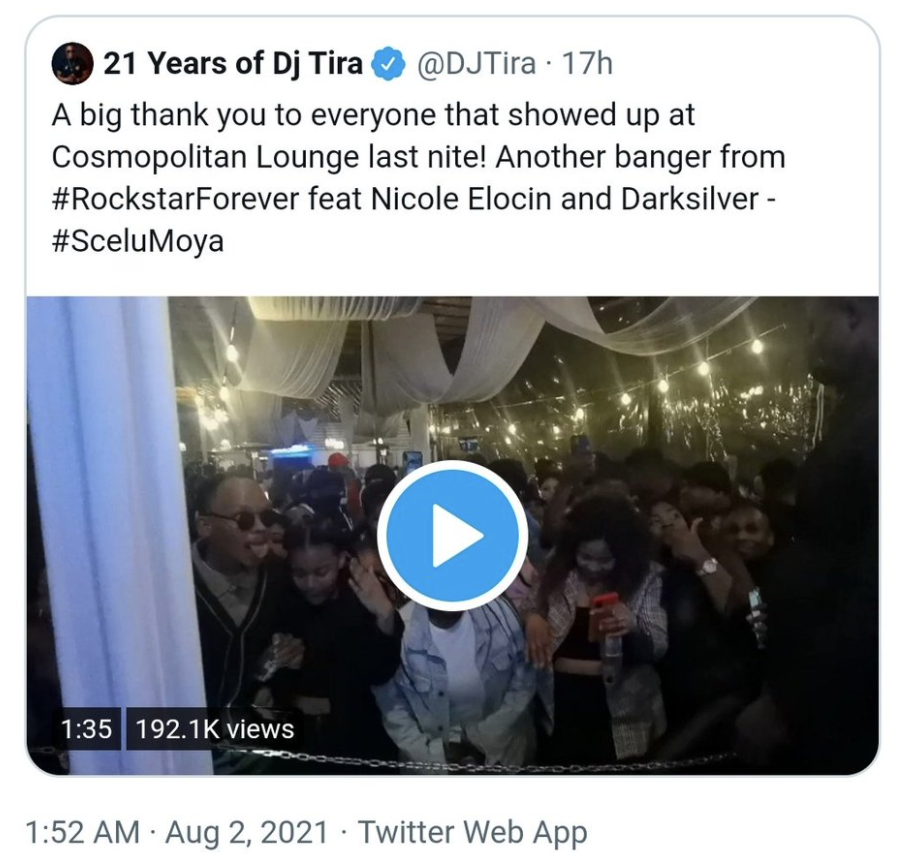 WATCH A SNIPPETT OF THE PARTY HERE
I don't understand why Tira thought deleting something that has already been posted on the internet makes a difference. pic.twitter.com/jUEdiaF2md

— Just Musa (@musa_mansa) August 2, 2021
Also Read: Fezile Zulu, the fast food employee whose voice caught DJ Tira's attention
Mzansi expressed how unhappy they were with Tira, saying judging from the clip posted and then deleted, that he was extremely irresponsible as people are dying.
Tweeps have showed no mercy on social media when they saw the visuals circulation online:
Those young people will infect people with pre-existing conditions who continue to die, but @DJTira doesn't care as long as he makes money. He even has a nerve to say "get vaccines" as if SA has vaccines everywhere 🙄. It is sad when people who are supposed to know better do this

— Lethabo (@Cheetahplains) August 2, 2021
Tira needs to be arrested, he's not even admitting that he's wrong. This person will contribute in people losing their lives, their income, their jobs and their gigs. Then akhale athi the government doesn't care about artists or alcohol isn't killing people.

— Sunshine 🌞💛 (@Karabo_Mokgoko) August 1, 2021
Wow! Yheey nifane nenze nje Tira. Do you even know the status of #VaccineRollOutSA and who gets to qualify? You posting this video shows that you're seriously out of touch. You're probably the only person who qualifies for a jab there. The rest are under 35. How irresponsible. https://t.co/3GK1ex5Nx0

— Siphiwo Nzawumbi (@SpitchNzawumbi) August 2, 2021