By: Natasha Archary 
DJ Maphorisa starts beef with DJ Shimza for his failure to uplift young talent. In a thread of heated exchanges between the two DJs, Maphorisa told Shimza to give the "ghost producers" on his track some credit.
"Why you always make music alone 💔 no young up and coming nyana everytime Shimza's alone. Grow this afro movement uplift young talent bro please. That's why they end up hating us cause you close doors. Don't tell me you made that beat alone, sorry but I had to take out my chest in front of everyone ❤️ love you mfanaka but I can't!" Maphorisa commented on Shimza's post. 
DJ Shimza shared a teaser of a new song sample he's working on titled Sold Out which is an Afrohouse/Afrotech track.
Earlier this year Maphorisa started a twar with Prince Kaybee when he heatedly exchange that he owns the masters to his music, alleging that Prince Kaybee, Lady Zamar and Mafikizolo didn't.
The controversial DJ also called out Kwesta in May this year for allegedly failing to pay him for producing Ngud.
This time however, 'Phori' as he's referred to by fans, called out Shimza for failing the industry and closing the door on young talent.
"You know what I'm talking about. The ghost producers that you give a once off fee to. This thing must stop. You must give them credit on your song and let them shine," he wrote to Shimza.
Maphorisa starts beef with Shimza telling him to change the game and get youngsters gigs or make an EP with them to grow the industry.
Shimza hit back that he is helping young talent make it in the industry with the launch of Kunye which he calls Mzansi's Coachella.
"This is why I started Kunye Records bro, to showcase the music, streams and sets online so people can put the faces to the names!" Shimza replied.
View this post on Instagram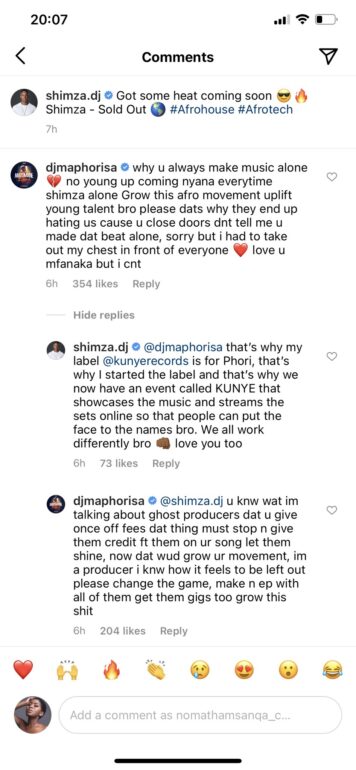 Also read: Kabza de Small, DJ Maphorisa are Apple Music's most streamed artists in SA