By: Kaya News Reporter
Latest statistics from Stats SA show that consumers have been paying more for food this year.
The cost of food prices has hit an all-time high due to varying factors including the heavy rains that have ruined crops.
Another key driver in the high prices is the transportation component which has also contributed to the Consumer Price Index (CPI) hitting a 30-month high, increasing by 5.2%.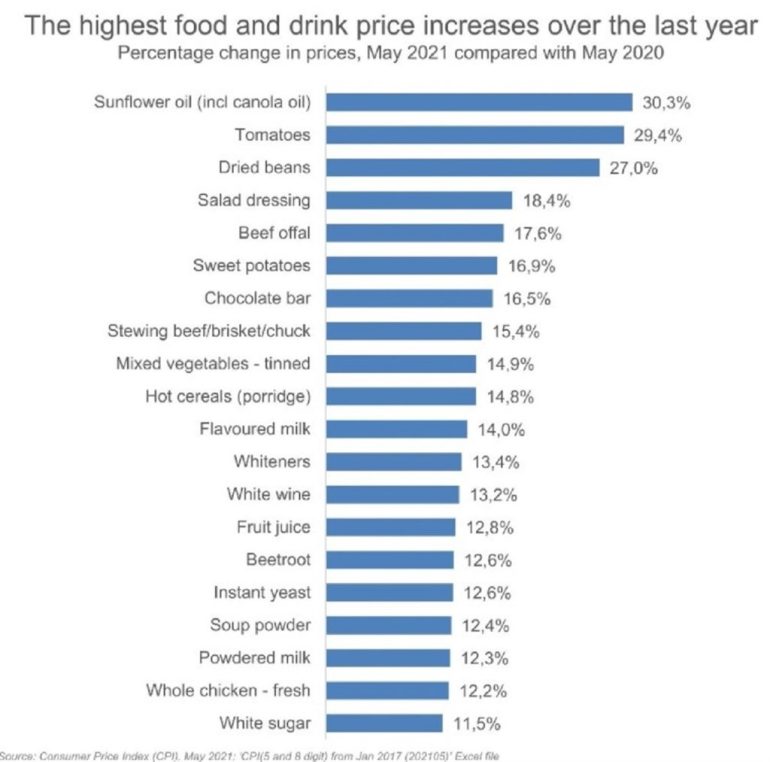 The cost of most food and drink products have gone up from May 2020 to May 2021. South Africans have been paying 30.3% more for sunflower oil, 29.4% more for tomatoes and 15.4% more for stewing beef, brisket and other beef products.
The cost of fuel in the country went up by 37% more than the same period last year.
Annual consumer price #inflation hit a 30-month high in May, rising to 5,2% from 4,4% in April. The #CPI increased by 0,1% m/m in May 2021.

Listen here for more: https://t.co/fWMN50tcDp#StatsSA pic.twitter.com/tO61Tb2LRp

— Stats SA (@StatsSA) June 23, 2021
In April, Johannesburg ranked as the second most expensive city in the country for monthly food basket costs.