By: Natasha Archary
Last weekend a tragic car accident claimed the lives of 5 Amapiano artists but the name of the sixth victim, Bra Sanza was excluded from media reports that carried the story.
While police investigate the cause of the crash that claimed the lives of Killer Kau, Mpura, The Voice, Thando Tot, and TD, social media users flooded timelines with tributes to the 6th man whose death went unnoticed.
Bra Sanza may not have been a celebrity but to the people in his hometown, Lemenong, Phokeng in Rustenburg he was a hero in every sense of the word and he received a guard of honour as a fitting send-off yesterday when he was laid to rest.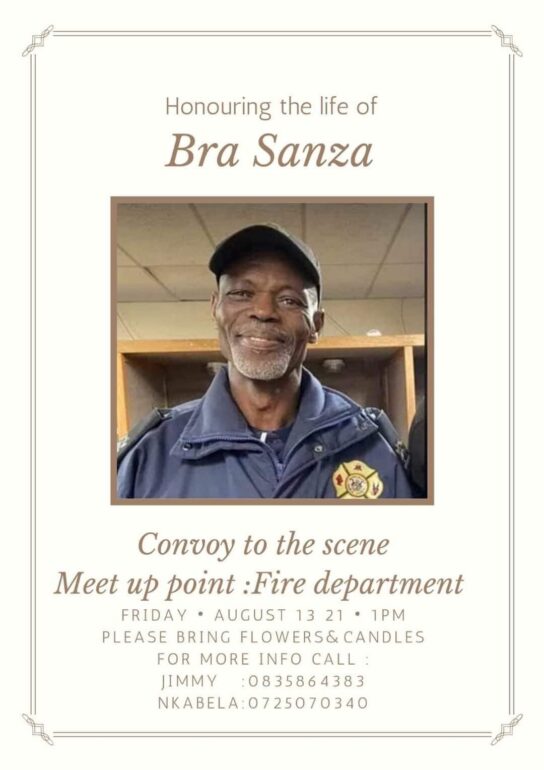 The family man, whose age is unknown, was a fireman and reportedly the sole breadwinner to his family. He was driving home after his shift when the vehicle that the Amapiano artists were travelling in collided head-on with Bra Sanza's Corsa.
While details on the accident are yet to be confirmed, preliminary investigations from the first responders on-scene suggest that the driver of the Mercedes which the Amapiano stars were in overtook another vehicle, veering into oncoming traffic.
Major crash occurred on Saturday 7 August 2021 at 21:30 on the N4.

It is alleged that the Merc Benz(with 5 occupants) overtook another vehicle when it was unsafe to do so and collided head on with the Corsa.
As a result, 5 persons were killed. pic.twitter.com/AmwLeS2xN1

— Road Traffic Management Corporation (@TrafficRTMC) August 11, 2021

On Friday while the memorial service for the artists was underway, Bra Sanza's EMS colleagues visited the scene of the crash to pay tribute to him with a fitting motorcade.
Honoring the life of Bra Sanza pic.twitter.com/YRLUoFDTRe

— Mickey Van Peeblez (@van_peeblez) August 13, 2021
"Bra Sanza was a fireman who lived a life full of fire. Unfortunately, he rose to fame under tragic circumstances! Pity his was a life cut short in a horrific manner. Rest in peace man of fire!"
Bra Sanza a valuable client,friend and very important Person to the community laid to rest… pic.twitter.com/hnMLdsxHa1

— Godisamang (@Mr_Ruralitarian) August 14, 2021